PlanGrid vs Bluebeam – Which is Better for Your Project?
Lately, a recurring question has come up with my construction clients regarding the comparison of Bluebeam Revu and PlanGrid.
Since many companies are looking for ways to become more paperless, both of these applications have become quite popular as digital workflow choices with Architecture, Engineering, and Construction (AEC).
But, which one is better? If a company is looking to take their wide-format workflow digital, which one should they choose?
Honestly, this question has a lot of moving parts, so the answer can be a bit dynamic. But, let's dig in and take a look at the comparison of PlanGrid vs Bluebeam Revu.
[Try Bluebeam Revu FREE for 30-days]
Plangrid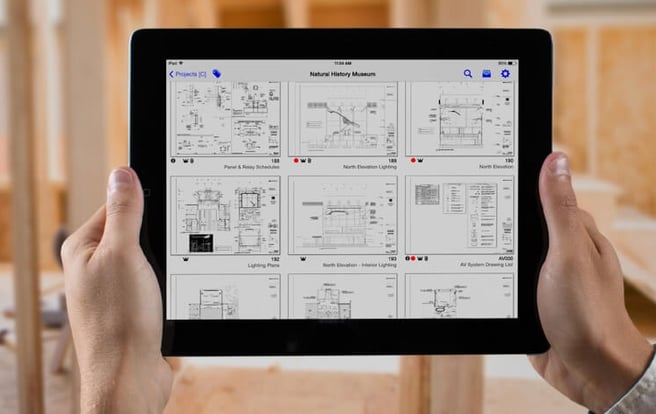 Simply stated, PlanGrid is a construction software designed for use in the field on mobile devices providing real-time updates and seamless file syncing over Wi-Fi and cellular networks.
The tag line of the product is, "The construction app that works for you." A strength of PlanGrid is the fact that it was developed as a construction tool from the ground up. Here are a few highlights.
Replaces paper blueprints and brings the benefit of version control to the users in the field
Enables users to always access a cloud-based master set of drawings
Project files are always up-to-date in real time. This keeps everyone on the project "on the same page"
Real-time updates and automatic file syncing
Bluebeam Revu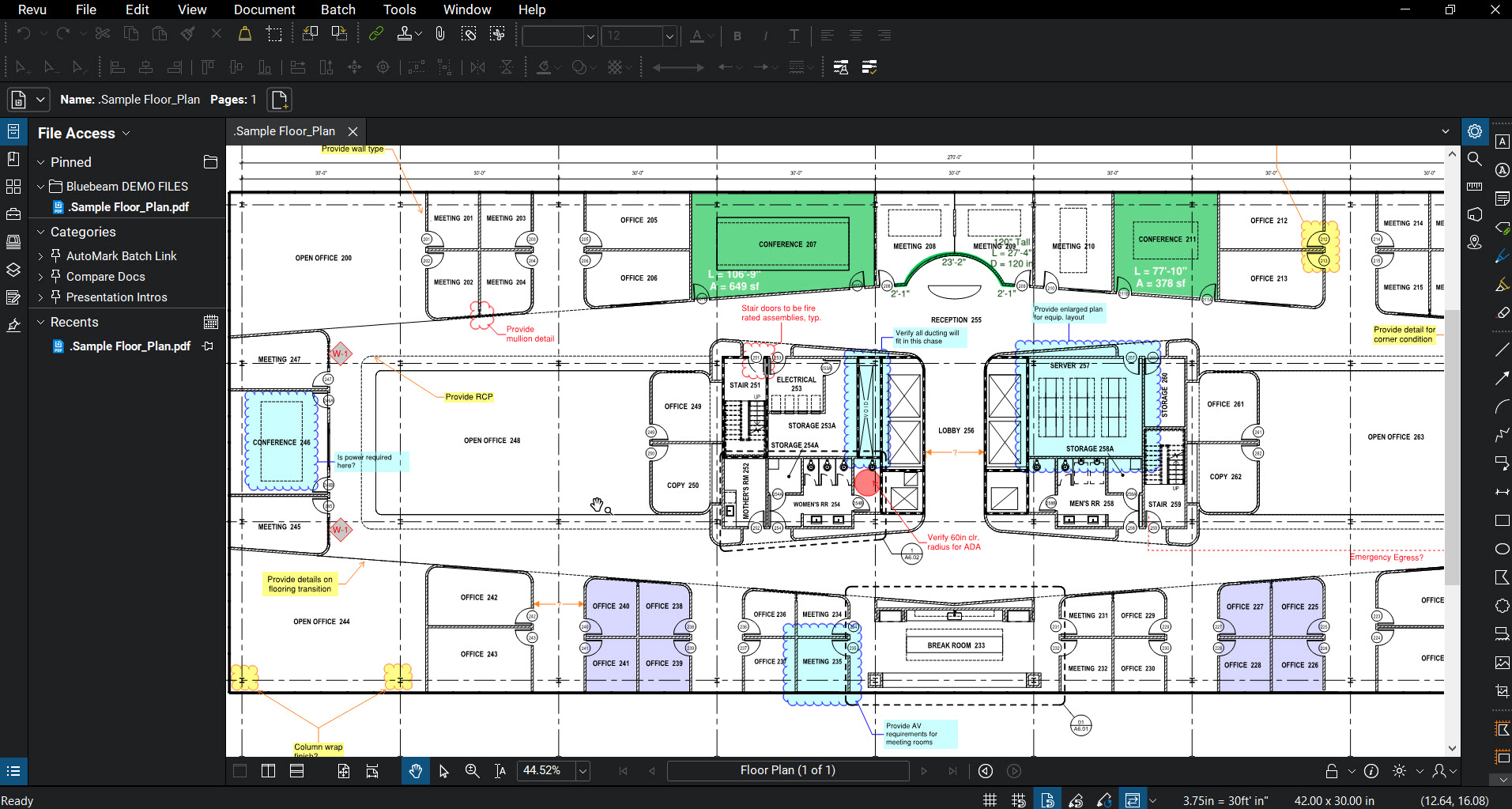 Give Bluebeam Revu a spin with a FREE 30-day trial

Bluebeam Revu is a smart, simple, project efficiency and collaboration solution for deign and construction professionals worldwide.
Revu leverages the PDF file format to improve project communication and streamline processes across the entire project lifecycle.
This functionality makes it a great tool for a wide range of industries including energy, legal, education, etc. But, architecture, engineering, and construction are the sectors who can benefit from Revu the most.
In fact, Bluebeam is built specifically for the AEC industy, with some native, industry specific functions.
Document Comparison and Overlay Pages for Quality Control
Advanced Suite of Markup and Measurement Tools (for takeoffs, etc.)
Bluebeam Studio for cloud-based collaborative reviews. Within Studio, Projects give you a single centralized location to store documents in the cloud. And Studio Sessions let project teams review, mark up, modify and update documents at the same time.
Like PlanGrid, Bluebeam allows you to store project files in the cloud for real-time updates and viewing on mobile devices in the field. But, Bluebeam will give you many more editing options from the desktop.
Gain access to customizable, easy-to-use markup tools to simplify communication across teams, and the harness the dynamic power of the Markups List.
Draw markups with RFI (request for information) and sketch content
Update plans with progress photos from any stage
Quickly run daily reports for construction projects from the Markups List
Expansive Bluebeam Studio (cloud-based) file tree includes any file type that you wish to upload to the project
Bluebeam Revu for iPad
When it comes to mobile access, Bluebeam Revu for iPad is a fantastic and inexpensive tool that works in harmony with the standard desktop application.
For just a few bucks, the iPad version of Revu is a great tool for field crews to use for a punch list or progress photos.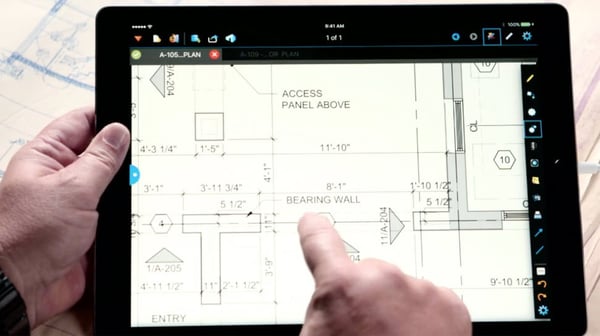 Sync files - Store files between your iPad and Studio Projects, Dropbox®, Box®, Citrix® ShareFile® or WebDAV accounts
Search - Easily view PDF details, find text and jump to bookmarks
Tool Chest - Use customizable markup tools and save them for later
Markups List - Track all markups added to your PDFs in an integrated list
Measure - Verify measurements in the field
Capture - Great for Punch Lists and you can embed multiple photos and videos into markups
Simply download Revu for iPad directly from the Apple App Store.
What they have in common
Now that the basic functionality, let's see the similarities between the two.
Both are available "offline" in the field so that edits can be made and the files will be updated when the mobile device is synced to the data in the cloud.
Both PlanGrid and Bluebeam provide PDF creation, markup, and editing capabilities.
Both platforms allow hyper linking to referenced sheets
Both are capable of embedding photo attachments within sheets
So, which is the better option for you?
If you have done some of your own research on this, you might have run across a Reddit thread comparing the Plangrid vs Bluebeam.
One of the posts that sums it up best, "It's like asking 'sports car or pickup'. Yes, both will get you somewhere, but they do it in different ways, and one is better than the other based on where 'somewhere' is."
After giving this quite a bit of thought, the best conclusion is that PlanGrid is a great tool to use if your primary goal it to give your field crew instant access to the most updated information stored in the cloud.
This will allow them to quickly access current version files, take pictures, make notes, and edits on the sheet via a mobile device.
Otherwise, Bluebeam is a great choice when leveraging the full potential of the PDF file format to improve project communications and streamline processes across teams.
This gives Bluebeam Revu a much larger reach that just construction. Also, there are plenty of training resources available for Bluebeam training or assistance, including an expansive library of tutorial videos.
Also, when you want a hard copy, Revu serves as a great print submission tool to a wide format printer. There are plenty of options readily available in the print window for users to access.
Ultimately, the best suggestion would be to try them both. Each will help you save time and money, and let you test drive a free trial. PlanGrid offers their "Hammer" account which is free to use and includes 50 sheets so you can get started. Alternatively,
Bluebeam offers a free 30-day no-obligation trial of Revu. Best of luck on your paperless journey.
Try BlueBeam Revu FREE for 30 days

Editor's note: This article was originally published in 2016. Updated May 2019.