Plotter Technology Comparison – Toner vs Inkjet
The comparison between which wide-format plotter technology is better, toner or ink jet, has been questioned within AEC companies for years.
Historically, this has been relatively easy to examine. The cost of ink jet printing is higher, but the price of the toner-based equipment was more expensive than their ink jet counterparts.
In the past, the break-even point was when the printing output reached 2,000 square feet per month. However, the playing field has changed.
Ink prices have dropped, ink jet systems have gotten faster with the introduction of new single-pass ink jet systems. So, how do the two plotter technologies compare now?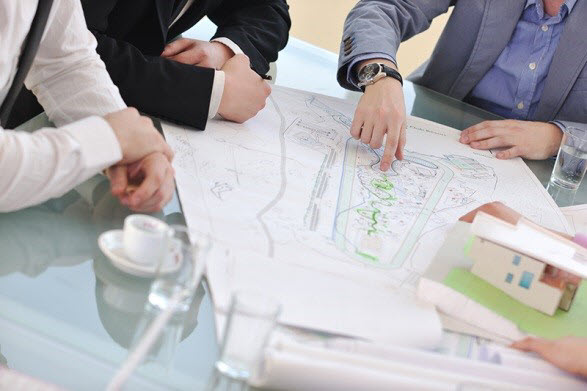 Typically, when investigating a new large format system, the buyer's criteria usually focuses on the actual price of the equipment.
This generally leads them towards an ink jet type printer - and logically so. But, like other business decisions, a deeper analysis should be explored.
Factors such as number of users, printing demand, the need for color, and types of files printed, should all be considered. While traditional ink jet printers are great for general purpose CAD printing, there are some limitations.
Durability
Believe it or not, today's ink jet plotters are only designed to last a few years. This is a tough concept for some people to accept, but it is legit. Research this and you'll find that ink jet plotters, regardless of manufacturer, usually do not offer an extended service plan past 3 years.
On the flip side, the price for a replacement ink jet plotter today is less than half of what they used to cost. So, it becomes justifiable to buy a new ink jet plotter or MFP every few years to keep up with the technology changes.
Toner-based plotters, on the other hand, are much more durable systems that are made to last for years. For example, the estimated life expectancy of an Océ PlotWave system is seven to ten years on average. You would have to purchase several ink jets in the same time span.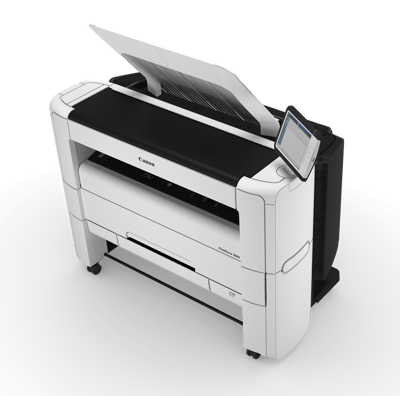 Print Volume
Traditional ink jet plotters just can't handle consistently large print volumes. Obviously, there are some people who are able to push their ink jet plotters past the norm.
But, on average, they are only rated for about 3,000 square feet per month. Anything in excess of that is considered "outside of normal operating parameters."
Toner-based plotters, however, can easily handle many thousands of square feet of printing per month. For instance, both the Océ PlotWave 450 and PlotWave 550 are capable of producing 25,000 square feet of printing per month. That is 4,167 D-size sheets.
That type of output would send an ink jet plotter to an early grave.
Speed
Just like with volume duty cycle, LED-toner machines are much more robust.
A cutting-edge ink jet plotter, such as the Canon TM-305, is still only capable of printing about two sheets per minute.
Comparatively, the Canon PlotWave 3500 will print six sheets per minute and Canon PlotWave 550 will print ten sheets per minute.
Understandably, there will be plenty of companies that will not have these types of issues to worry about, but for those that do, can be crippled by slow print speeds.
Comparing the Overall Costs
Based on our own analysis, we find that the operational costs of ink jet tends to hover around $0.203 per square foot, while the cost of LED toner averages $0.116 per square foot.
Considering that, plus the initial cost of the equipment, toner machines are a better value once the total volume printed reaches approximately 100,000 square feet.
Given that a typical office now prints 3,500 square feet per month, the resulting ROI happens under 29 months.
Plus, once you roll in the durability factor, the ROI gift of a toner plotter and last for many years.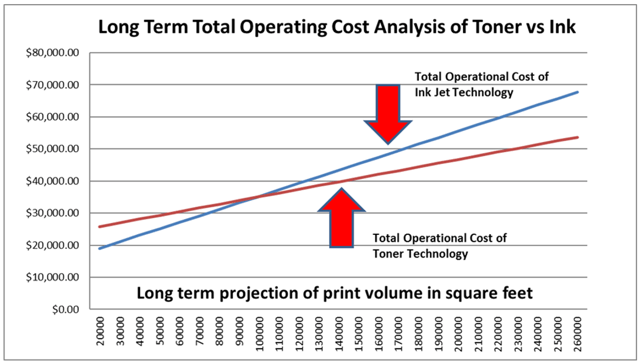 New Single Pass Ink Jets
Today, a new ink jet technology has emerged - single pass ink jet. This is known by a couple of different names, Memjet and HP PageWide, but the process is the same.
Unlike standard ink jets that use a traveling print head, this new single pass technology relies on a long, stationary print head that jets ink onto a traveling media underneath. Thus the "single pass" of the print head over the print material.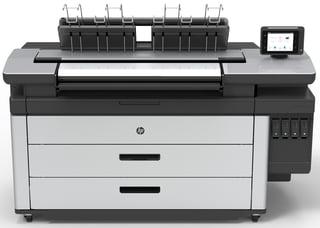 If you haven't seen it, this type of printing is certainly impressive. An inherent benefit of single pass printing is speed. In fact, it is possible for some of these machines to print up to 16 D-size pages per minute.
Additionally, manufactures of single pass printers are promoting a lower operational cost of these systems, but be warned, these new devices are not for everybody. There are some limitations to consider.
They are large - Most high-speed ink jet systems are designed as commercial printers and are not a good fit for traditional office environments. Their excessive mass can make them difficult to install, presenting challenges regarding doors, tight turns, and standard size elevators.
They are heavy - Generally, single pass printers weight more than 1,000 pounds. This can be challenging for locations who do not have concrete or reinforced floors.
High speed may not be necessary - Realistically, most Architectural and Engineering offices today average 3,500 square feet per month of printing output. This figure has shrunk over the years as companies digitize some of their workflow and utilize their large format printers for more color-centric duties. So, as the demand lowers, so does the need to print a lot of sheet quickly.
The Case for Traditional Ink Jet
Honestly, this article is not about bashing ink jet plotters. There are some fantastic, traditional and high-speed, ink jet units out there and in the right environment, they are a great fit.
Traditional ink jet plotters offer the lowest cost of entry regarding wide-format equipment and they can print in color. Most toner systems only print in black and white.
Still, companies need to be smart about their wide-format investments. They need to consider all the factors before deciding on a system.
In the case of professional environments, ink jets can easily be outclassed causing further issues and inefficiencies.
Therefore, it is imperative that companies analyze all aspects of their wide-format needs before deciding on which technology to pursue.
[See the latest selection of Canon inkjet plotters]
For a full, detailed analysis, download the Wide Format Technology Comparison White Paper