[ Free Consultation ] Are you interested in upgrading your plotter technology, but have no idea where to start? Click Here to Schedule Your Free Consultation Call
Despite all the digital advancements in the AEC industry over the past few years, the concept of a completely paperless office just does not exist. There is still a need for paper plans, maps, and other large images.
So, a plotter is still very much a viable piece of equipment for any architectural, engineering, and construction offices. But there are more options now than ever. The choices can be daunting. So, this article will help narrow down the important aspects of how to buy a plotter today.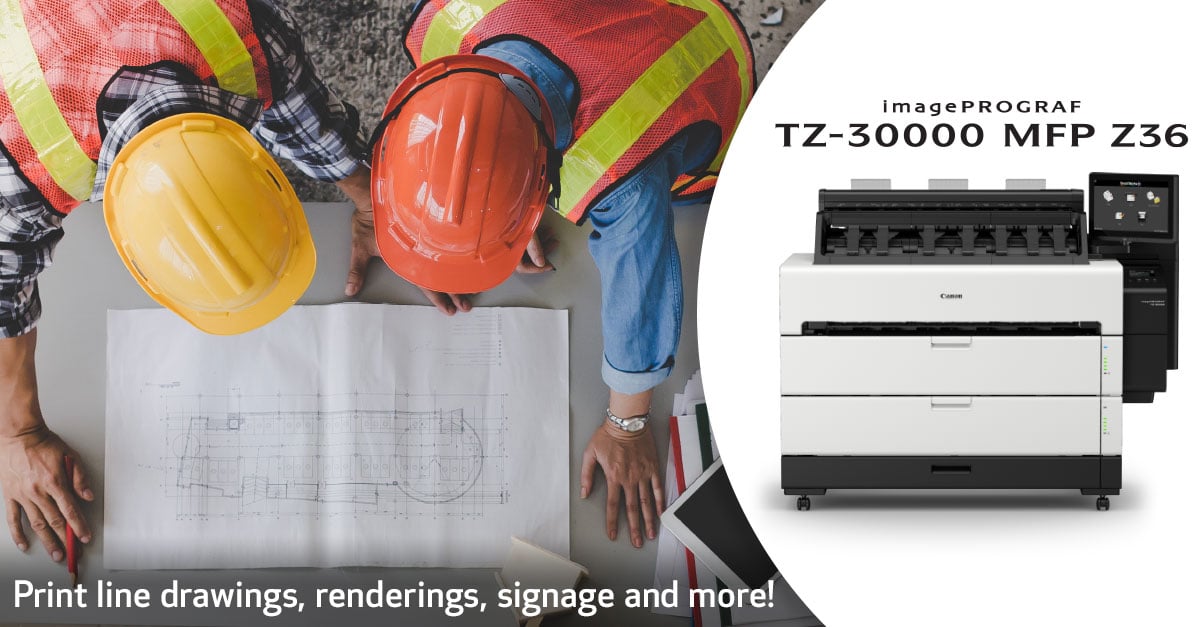 [ Explore plotter options on tavcotech.com ]
The term "Plotters" is a general term that encompasses everything from basic CAD plotters to large 60-inch photo printers that are used by professional photographers. But, for this sake of this article, we are strictly focusing on technical plotters. These printing machines are meant for CAD line drawings, aerials, schematics, etc.
The first question you should ask yourself when you want to buy a new wide format printer is, "How much am I going to print?" Although this seems extremely obvious, it is incredibly important to be honest with yourself about this. Under-investing in your technology can cost you much more than you think. More on that in a bit.
Basic, entry-level, units are fine for just a few prints per day, but if your needs revolve around supporting a workgroup of many different users or printing multiple sets of drawings per week, you need to level up the technology.
When generally assessing needs, it is good to think in terms of square feet per month. However, this can be broken down many ways – feet per week, sheets per week, rolls of paper used per month, etc. Whichever metric is used, it is best to ultimately break it down to a monthly square foot benchmark.
Canon plotters per your printing need
Very low volume – Under 2,000 square feet per month:
Canon TA-20, TA-30, TM-200, TM-300, TM-305
Low Volume – Up to 3,000 square feet per month:
Canon TM-200, TM-300, TM-305, TX-3100, TX-4100
Mid Volume – Up to 6,000 square feet per month:
Canon TX-3100, Canon TX-4100, Canon TZ-30000
High Volume – Up to 10,000 square feet per month:
Print Volume is NOT this only factor
Another thing to consider besides the monthly volume demand is your average batch size. This is the number of sheets printed at a time. Printing 50 drawings per day in 5 sheet batches, and 50 drawings all at once are two completely different scenarios.
If printing in large batches is part of your workflow, it can ultimately be more cost-effective, in the long run, to level up to a larger model to increase the output speed, number of paper rolls, or overall top-end capacity. This further helps determine the best plotter for your specific situation.
Scanning Your Plans
At least with Canon products, most large format plotters are available as either a plotter-only configuration or as a multifunction printer (MFP) with an attached scanner and integrated controller PC.
Years ago, large format scanning was vital as companies needed ways to digitize large libraries of drawings either from flat files or hanging files. Today, most projects live in a digital environment, so the need for archive scanning may not be a pressing issue, but it is commonly required. So, having access to an onboard scanner certainly has its merits.
MFP configurations give you the convenience of making copies of your originals on the fly or digitizing them to quickly share information with project partners and owners. Having a scanner available can save you a ton of time with documenting RFIs and as-builts.
Pick the right width
Canon's technical plotters are either 24", 36" or 44" wide. The 36" models are the best selling and can accommodate all the standard architectural and engineering size up to an ARCH E – 36" x 48" sheet.
Pro Tip: A 24" plotter cannot print a 30"x42" sheet because it cannot hold 30" paper. However, a 24" plotter CAN print ARCH D size sheet in portrait on a 24-inch roll of plotter paper.
Meet the Different Canon imagePROGRAF Models
Canon iPF TZ-30000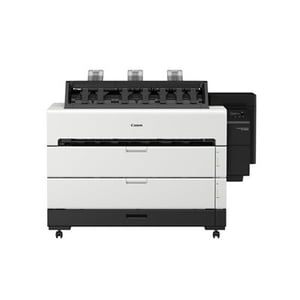 The latest member of the Canon imagePROGRAF family. The TZ-3000 is designed to benefit a variety of CAD markets including architecture, engineering, government, manufacturing, and more. Built with productivity in mind, the imagePROGRAF TZ-30000 series delivers high-speed printing. It can print a D-sized (24" x 36") drawing in as fast as 14 seconds, and up to 236 D-sized prints per hour. It is a great model to consider to buy a plotter printer.
Fast print speeds (4 D size sheets/minute)
Latest technology integrated stacker holds 100 sheets
Informs you how much paper is left on each roll
Canon iPF TX-3100 and TX-4100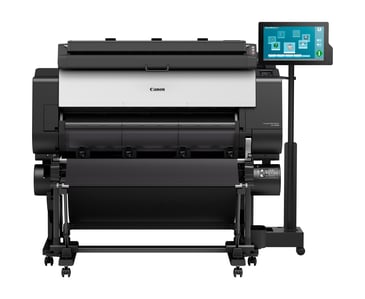 These units combine the latest technologies in one single platform. These powerful systems provide fast printing and scanning of construction drawings, GIS maps, posters and more, for amazing results. High-capacity ink tanks help minimize the need to change ink often and provide a lower overall cost of operation.
Available in 1 or 2 roll configurations
Prints are fade proof and water resistant thanks to Canon TD pigment inks
Intuitive operation greatly minimizes learning curves
Canon iPF TM-200, TM-300, TM-305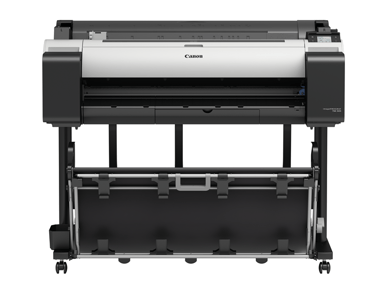 Great all-purpose printers and MFPs for CAD and general-purpose printing. Besides printing architectural drawings, the TM Series is also perfect for making posters, signage and displays with the use of Canon's LUCIA TD water resistant pigment ink and fine art papers.
Incredibly small footprint enables the TM printers to be place just about anywhere
WiFi connectivity make installing them a breeze either in the office or at a home office
Ultra-quiet operation make the Canon TM printers a popular choice
Canon iPF TA-20, TA-30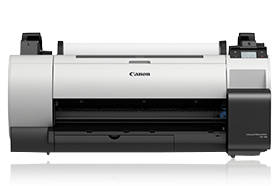 If you are new to wide-format printing or simply have a light workload, the Canon TA-30 might be a good fit for you. With excellent print quality, ease of use, and wireless connectivity, you can get started easily.
Print more out of the box – it ships with more ink that other competitive models
Low cost of operation
Ships with the latest security features to help keep your data safe
Ready to start exploring your options?