[ Free Consultation ] Are you interested in getting a new plotter printer but don't know where to start? Get help from our top tech experts in a free consultation call.
Click Here to Schedule Your Free Consultation Call
Plotters are great tools for creating professional-looking documents. They're often used in business, including architectural, engineering, construction, and manufacturing applications. They aim to make drawings, graphs, charts, and other diagrams that convey information.
There is no doubt that digital workflows, especially in AEC, have significantly changed the design and build process in recent years. However, look around, and you can still find plenty of paper construction drawings.
Because of this, there is still an obvious need for large format printers. Likewise, it is good to know specifics about the latest technical plotter technologies geared directly towards line drawings, aerials, schematics, etc.
If you are in the market for a new blueprint plotter, there are some essential things to keep in mind. We'll dive into these and suggest various machines for you. Nevertheless, when considering a plotter purchase, you should look hard at your company's workflow.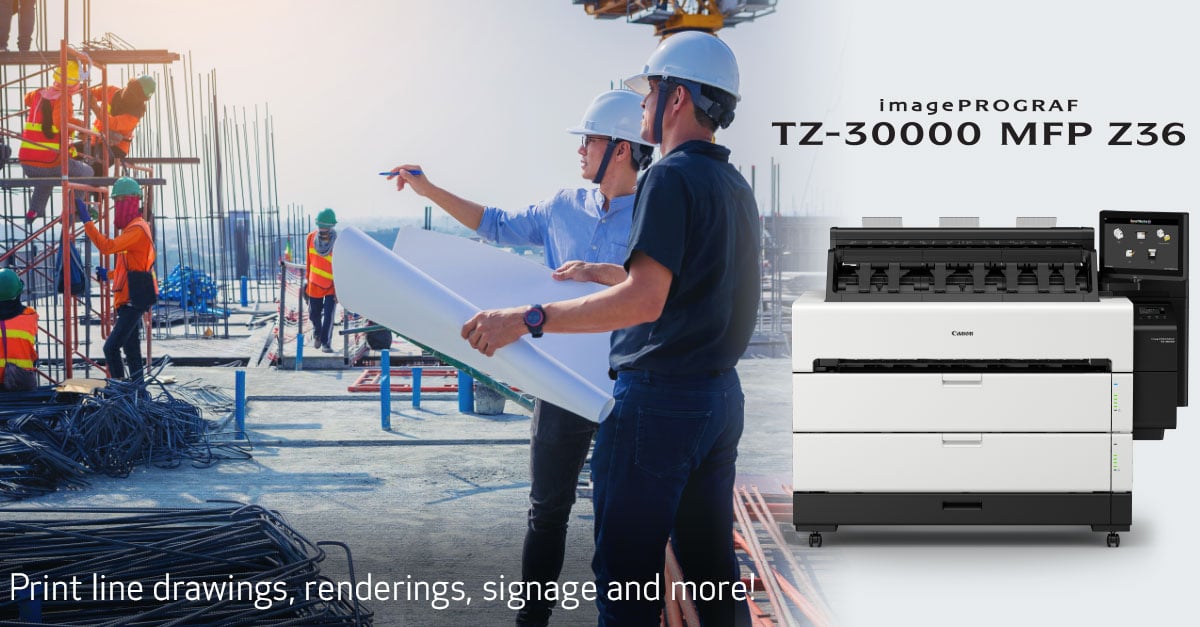 Some things to think about when picking a plotter
Are you looking to print CAD drawings or more high-end graphics?
Do you have a preference for Inkjet or toner-based technology?
Do you need to print color, B/W, or both?
What types of print media would you like to print on?
What is your estimated print volume? (Usually stated in either sheets or square feet)
Do you want 36-inch output or perhaps another size?
What kind of print speed would serve you best?
How many users will access the printer?
Do you need multifunction (copy/scan) functionality?
This article focuses on new Canon plotter options. While there are other manufacturers, this information is dedicated to the Canon portfolio.
A word about used plotters
You may feel that there are some fantastic deals on used plotters, but beware, they can be precarious investments. Often used machines are traded by brokers who do not pack or ship these units correctly. I could tell you horror stories of some of the shipping damage I have seen through the years. Honestly, it is best to go through a reputable dealer.
If you are considering used equipment, do your homework and ensure that the manufacturer still supports it. Getting a great deal on a used plotter doesn't do you good if the machine fails six months later and you can't find replacement parts.
This situation quickly relegates that "bargain plotter" to boat anchor status in a heartbeat.


How Much Do You Need to Print?
As with all print equipment, duty cycle and print speed significantly contribute to the user experience. This brings up another great point - don't simply decide on a new plotter based on the spec sheet.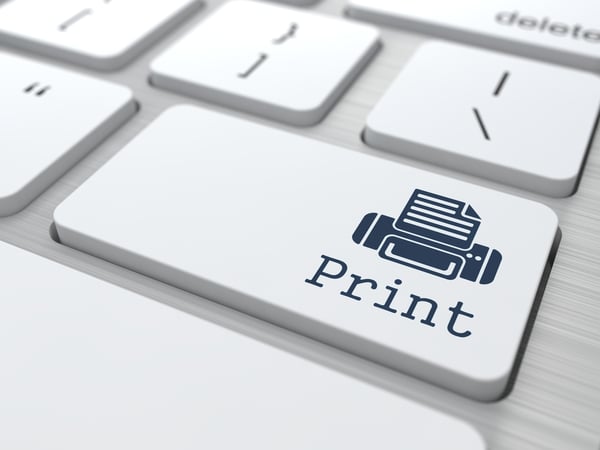 Reviewing system specs can give you some great insight, but they miss all of the nuances of the human interactions, like how the machine neatly stacks printed sheets, so you don't have to hand sort a nasty mess of drawings.
Or you are getting a new machine only to learn that the entire system needs to be pulled away from the wall to load paper. Make sure your new system will be one the whole office will enjoy using.
Scanning Drawings to Digital Files
Need to scan drawings? It would be best if you considered an MFP (multifunction printer) with a wide-format scanner mounted on the printer. This new single-foot print design adds extra functionality without wasting valuable floor space.

Not everyone needs scanning, but companies often default to purchasing an MFP (multifunction printer) that includes a plotter, wide-format scanner, and a dedicated controller PC.
If you have physical sheets to reproduce (copy) or scan into a digital format, such as PDF, you need this feature.
One or Two Paper Rolls?
Some Canon imagePROGRAF models today allow you to have either one or two media rolls. This dramatically increases the system's convenience as you can load two different size rolls or paper types to print on demand.
Often our customers keep a roll of 36-inch paper and another roll of 30-inch paper loaded. This lets them print24"x 36" ARCH Ds or 30"x 42" sheets without physically changing anything on the machine. How convenient is that?
How Wide Do You Need to Print?
Typically, technical plotters are either 24", 36" or 44" wide. The most common size out of those is 36-inches. One reason for this is because a 36-inch plotter printer machine is capable of printing any size up to 36"x 48" (Which is now uncommon).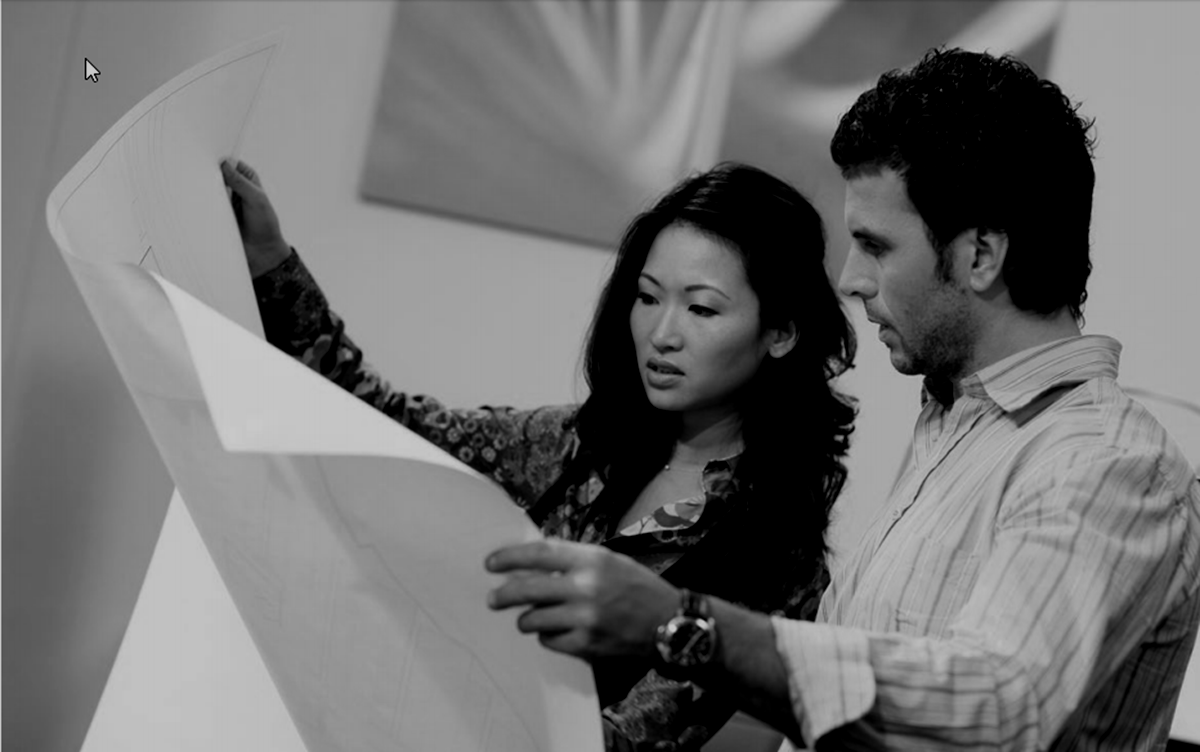 There is a situation, such as GIS or Oil & Gas, when a 40"+ is needed, but generally speaking, a 36-inch system gets the job done 90%+ of the time.

If space is an issue or there are budget constraints, then there are some 24-inch options for both plotters and MFPs. But beware, you are limited to a max sheet size of ARCH D (24"x 36").
Use Every Drop of Ink in the Tank

The exclusive Canon Sub-Ink Tank System allows virtually all available ink in a tank to be used before replacing it, helping to eliminate wasted ink.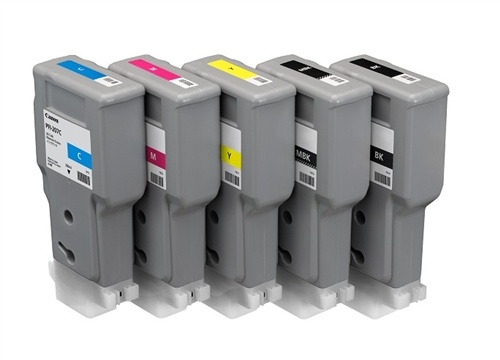 The empty tanks can also be replaced on-the-fly without stopping the printer. This is extremely useful during your long print jobs. Not only does this greatly enhance the plotter's dynamic functionality, but it also gives you peace of mind that no ink is discarded when the ink tanks are replaced.
The Best Plotter Printers Available Today from Canon (Listed From Smallest to Largest)
Several different plotter printers are available today, so we've put together a list of the top ones offered by Canon.
Canon TM-200 - 24-inch plotter
The TM-200 CAD printer is not only ideal for printing technical documents, CAD line drawings, and GIS maps but also posters, signage, and displays.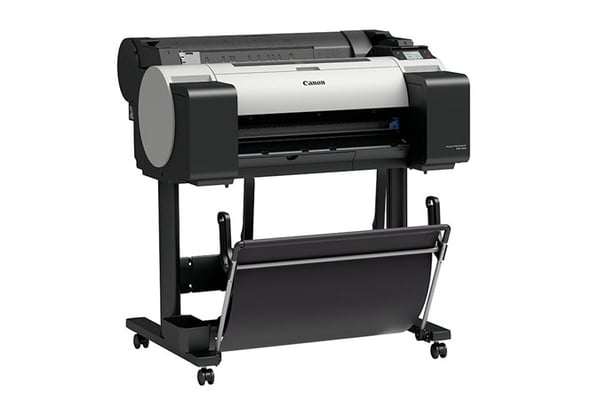 The small 24-inch form factor makes the Canon TM-200 an extremely versatile printer. Since this is a 24-inch printer, you are limited to a max print size of ARCH D (24"x 36").

This is an excellent solution for small or home offices that print 5-10 sheets daily, less than 3,000 square feet per month.

More info about Canon TM-200
Canon TM-200 L24ei - 24-inch MFP (Plotter with scanner)
The Canon imagePROGRAF TM-200 MFP L24ei, a large format imaging system, is an affordable scan-to-copy/file system for low volume and entry-level users.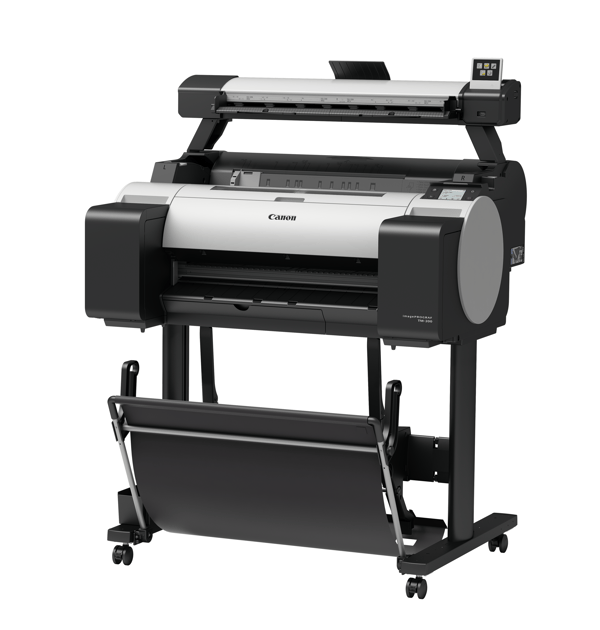 With a 24-inch scanner, this MFP is designed for architects, engineers, consulting firms, small offices, and K-12 schools that require a minimal learning curve for new equipment.
Offering more than just the scan-to-copy functionality, this imaging system gives you the ability to scan to USB, scan to copy and archive, scan to multipage PDF and scan to your PC, and reduce and enlarge images.
This is an excellent solution for small or home offices that print 5-10 sheets daily, less than 3,000 square feet per month.
More info about Canon TM-200 MFP L24ei
Canon TM-300/305 plotter
The TM Series is a superb 36-inch general-purpose printer that allows you to print everything from construction drawings to GIS maps, posters, signs, and more.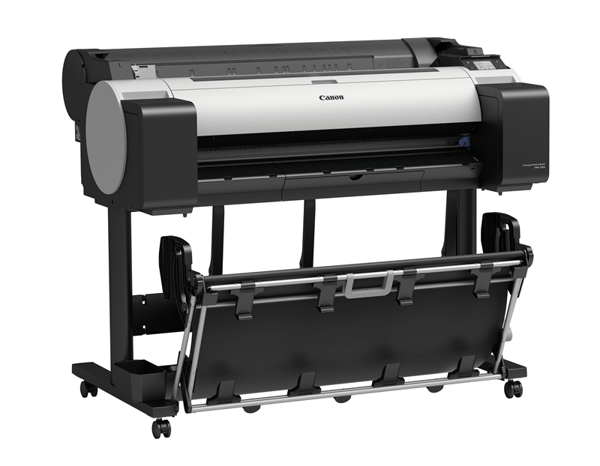 The TM series is built with Canon patented technologies and is nearly 60% quieter than previous models. The new Canon LUCIA TD inks are fade-proof and water-resistant.
The difference between the 300 and the 305 is that the TM-305 includes an internal 500GB hard drive. This benefits spooling larger, more complex files, job spooling, and other advanced features.
Be advised that the TM-300 and TM-305 are only 1-roll printers. For more on-board paper capacity, you need to consider either the TX-series are the new TZ-30000.
The TM-300 and TM-305 are great solutions for small or home offices that print 5-50 sheets per day and less than 4,000 square feet per month.
More info about Canon TM-300/305
Canon TM-300 L36ei - 36-inch MFP (Plotter with scanner)
Like the Canon TM-200 MFP L24ei, the TM-300 MFP L36ei utilizes a simple Colortrac Lei scanner. As with all Lei units, this is an affordable, entry-level scan-to-copy/file system for low-volume users.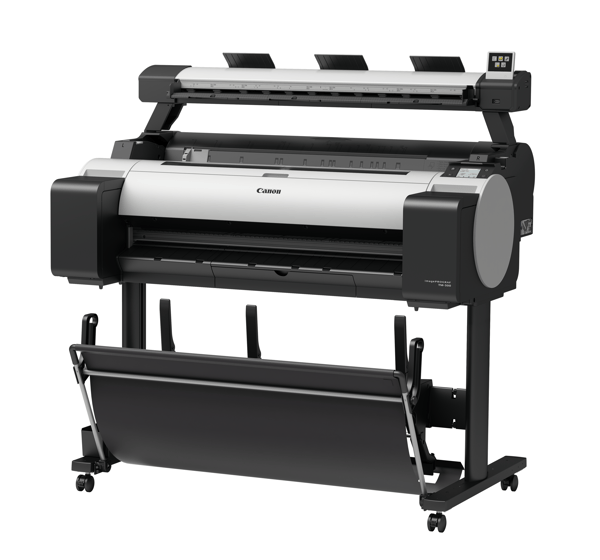 With a 36-inch scanner, this MFP is also designed for users to need a "no frills" package with a minimal learning curve.

Likewise, the TM-300 Lei offers more than just the scan-to-copy functionality. This imaging system allows you to scan to USB, copy and archive, multipage PDF and scan to your PC, and reduce and enlarge images.

This is an excellent solution for small or home offices that print 5-10 sheets daily, less than 4,000 square feet per month.

More info about Canon TM MFP Lei
Canon TM-300/305 MFP Z36 (Plotter with scanner)
The Canon TM-305 MFP T36 Scan-To-Copy/File/Share system has everything needed to copy, scan, archive, and share maps, drawings, renderings, and posters.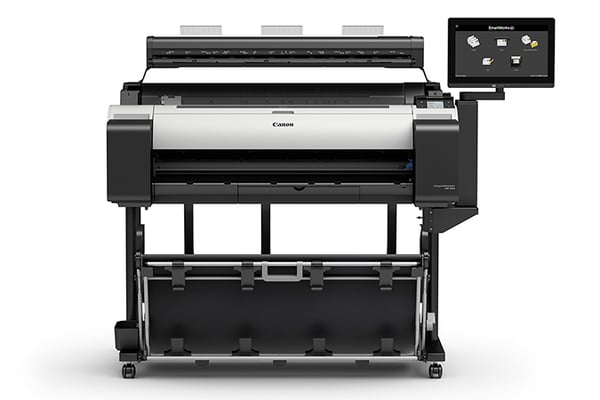 It combines the robust and reliable TM-300 or TM-305 plotter with the latest Colortrac Z36 color scanner.
This multi-component system allows you to be more productive by being able to print and scan at the same time. The new Win 10 AIO (All-in-One PC) has an intuitive GUI design for simplified printer management.
Like the plotter-only versions of the TM-300 and TM-305, these MFP versions are perfect for small offices or home offices that print 5-50 sheets per day and less than 4,000 square feet per month.
More info about Canon TM-300 MFP and TM-305 MFP
Canon TX-3100/4100 MFP (Plotter with scanner)
The Canon TX series are the models that are truly made for a shared workgroup environment. They are a little larger, more robust, and more capable than any of the TM Series.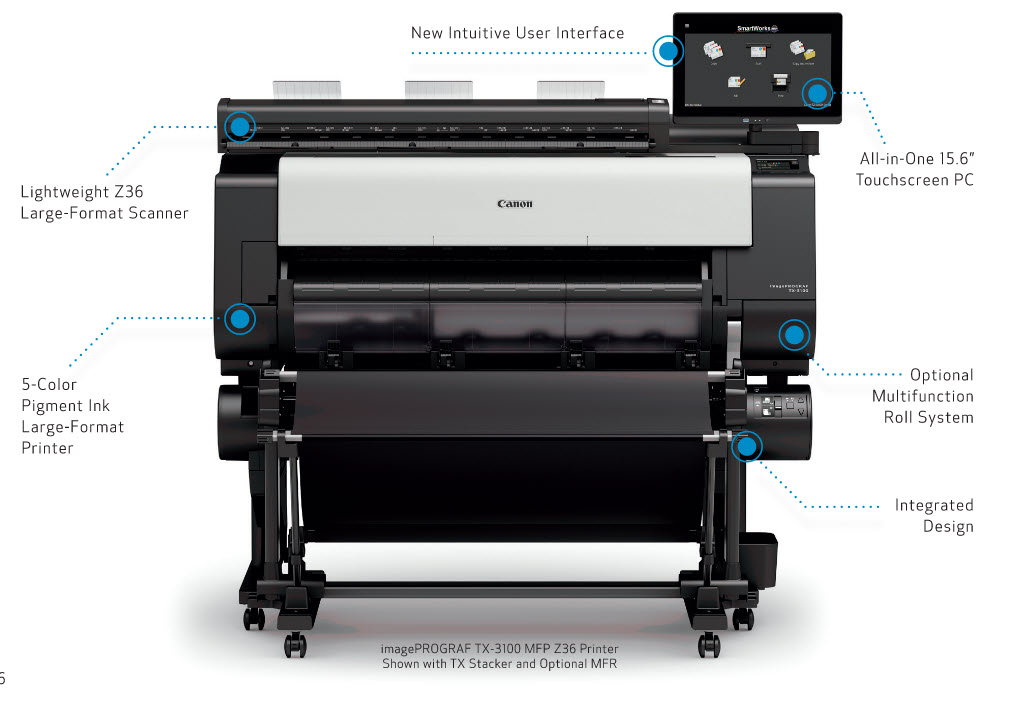 Also, the Canon TX models can be configured with two paper rolls. So, you can load two different sizes and types of media to print on demand.
These MFPs have been upgraded with faster printing speeds, an enhanced automatic roll loading function, and free-size borderless printing to improve productivity and efficiency.
It is preprocessing technology between pages and a faster cutter speed that help to achieve faster printing speeds than ever before.
This MFP includes a production CAD printer, Z36 scanner, and an intuitive system controller. Like other models, the TX-Series is a powerful addition to Canon's portfolio of large format printers.

There are two different size units available in the TX product line - the TX-3100 MFP is a 36-inch printer/scanner combo, and the TX-4100 MFP is a 44-inch combination unit.
They are usually purchased as full-functioning multifunction systems complete with a scanner and controller PC, but the TX series is also available in a plotter-only configuration.

As a more robust platform, the TX-Series is a good fit for mid-size offices or locations that require a more dynamic printing resource.
These machines are reliable in printing environments that require up to 6,000 square feet per month (1000 D-size sheets per month).

More info about Canon TX-3100/4100 MFP
Canon TZ-30000 MFP (Plotter with scanner)
Canon's latest edition is both the fastest and most powerful. The new TZ-30000 MFP allows you to plot, copy, and scan faster than ever in full color. This innovative, extensive format system is packed with new tech, including automatic paper detection and an improved top stacker to hold up to 100 prints.
The innovative TZ series has more in common with more expensive toner-based plotters than other inkjet systems. The single footprint chassis holds two internal media rolls, the latest generation color scanner, and an attached all-in-one touchscreen PC controller (Win 10).
Loading paper is a breeze! You load the paper roll on the spindle, place it inside the drawer, and close the door – that's it! The Canon TZ will automatically spin and load the paper.
The imagePROGRAF TZ will automatically sense the media length and width. You only must select the paper type from the printer's touchscreen display. And, unlike the other Canon models, the TZ comes standard as a two-roll machine.
The Canon TZ 30000 features a new integrated Top Output Stacker that can stack up to 100 sheets of bond paper. An onboard advanced airflow separation system also helps reduce paper jams while keeping prints neatly in place. So, your days of bending over to untangle a jumbled mess of printed bond drawings from an inkjet printer catch basket are over.
Most TZ models tend to be multifunction plotter and scanner units. Still, like other Canons, the TZ can be bought as a plotter-only configuration without a scanner and controller computer.
As the most rugged Canon imagePROGRAF model, the TZ-30000 is the best plotter for a networked workgroup printer with multiple users. It is capable of printing up to 10,000 square feet per month.
Which One Should I Buy?
When investing in a new plotter printer or MFP system, there is a lot to consider. It pays to do your homework before simply jumping into the lease expensive option. But, be careful. Don't decide on the best plotter and printer from the information you read in the brochure and spec sheet.
If you're looking for a printer that's easy to use, has a large print area, and prints quickly, then you should consider buying one of these plotter printers.

Speak with a trusted manufacturer's dealer and ask questions. As they say, the Devil is in the details, and when it comes to a wide-format technical printer, workflow, and a good user experience in everything.


Which Canon plotter and printer suits you best?
This article was initially published in 2010 and updated in 2022.
See the complete selection of wide format plotters and printers.