[ Free Consultation ] Are you interested in exploring new plotter technologies, but have no idea where to start? Get help from our top tech experts in a free consultation call.
Click Here to Schedule Your Free Consultation Call
The new Canon imagePROGRAF TZ 30000 is here, and it is specifically engineered to be the fastest imagePROGRAF plotter ever. It's packed with a multitude of new technologies to make your work easier than ever before. See how the new TZ automations outmatch of all inkjet CAD plotters that came before it.
New Compact Design
If you are familiar with the time-tested Canon/Océ PlotWave series, you will notice a lot of similarities. Even though the Canon TZ 30000 is an inkjet printer, it shares a lot of functionality with its toner-based cousin.
The single footprint chassis holds two internal media rolls, the latest generation color scanner, and an attached all-in-one touchscreen PC controller (Win 10).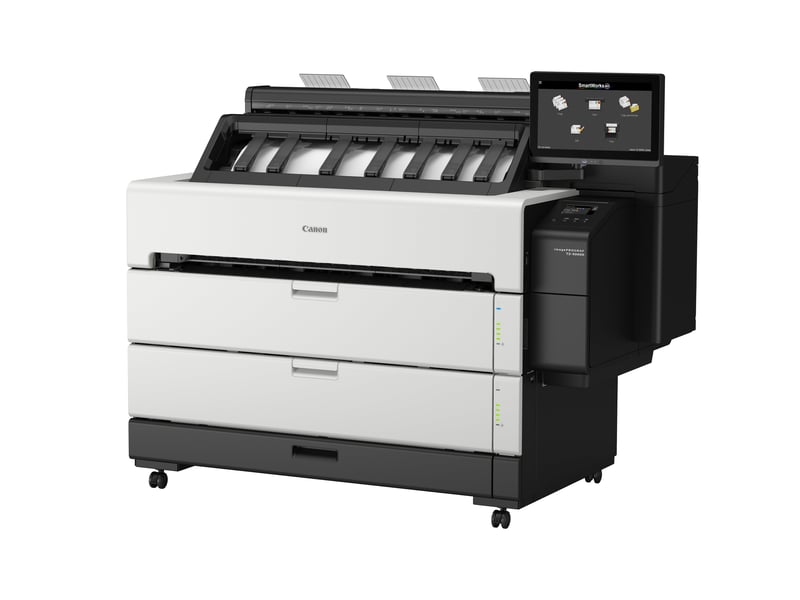 You'll notice that the TZ 30000 system it is smaller than you might expect. The MFP system, with a top-mounted scanner, is only 51-inches tall at its highest point.
Canon did a great job keeping the top surfaces low so that all users have easy access to all everything, including removing prints from the top delivery tray. Even those who feel they are vertically challenged.
Fast Print Speed
By inkjet standards, the TZ 30000 is a very fast printer, boasting up to 4 D-size (24x36) sheets per minute. In other words, the print speed is about 14 seconds per page. Plus, the rugged design allows you to easily print 244 D-size sheets in an hour.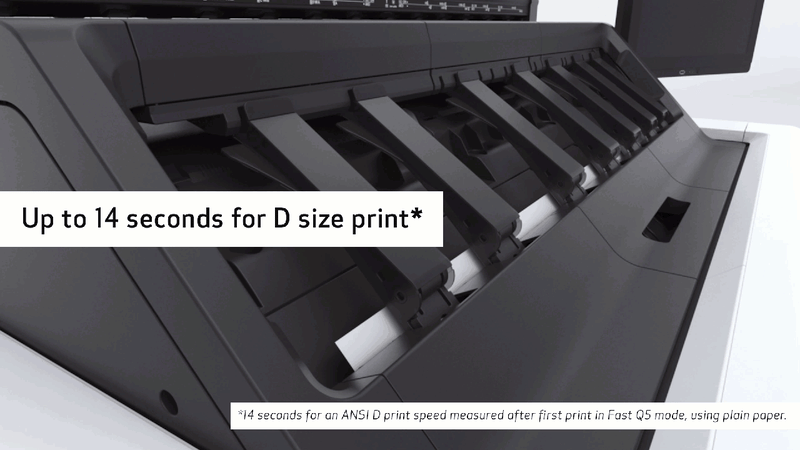 For fast print speeds to really make an impact, the startup sequence needs to be short. Good news, thanks to Canon's innovative dual processor technology, your first print can be ready in a little as 19 seconds in Print-Ready mode – 45 seconds from Sleep mode.

Integrated Top Stacker
Your days of bending over to untangle a jumbled mess of printed bond drawings from an inkjet printer catch basket are over. The Canon TZ 30000 features an integrated Top Output Stacker that can stack up to 100 sheets of bond paper. An onboard advanced air flow separation system also helps reduce paper jams while keeping prints neatly in place.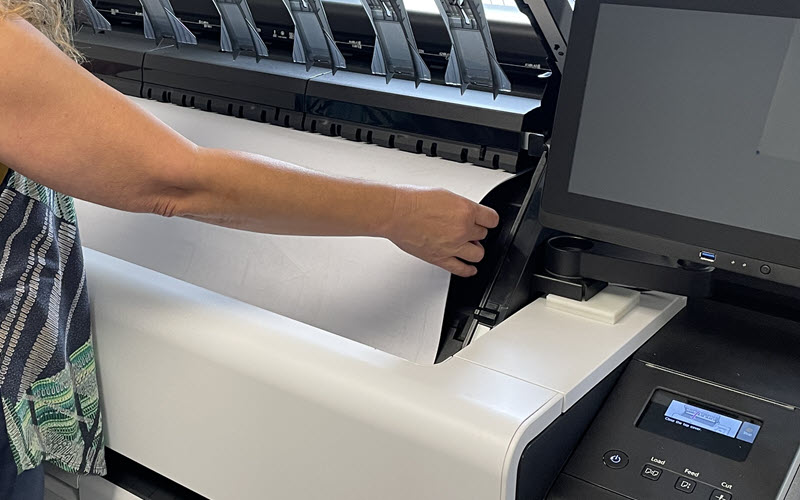 Prints are easily retrieved from the top of the unit. You can even remove sheets while the printer is actively printing. As a precaution, the TZ plotter will pause when the stacker is opened but will resume automatically once the stacker is closed again.

Also, the stacker is fully capable of handling mixed-size sets. So, go ahead and print a set of full size prints and a half-size set with no worries.

Simplified and Automated Media Handling
It is obvious that Canon spent a great deal of time and effort focusing on the end-user experience. This is totally evident regarding how rolls of paper and other media are managed in the TZ 30000.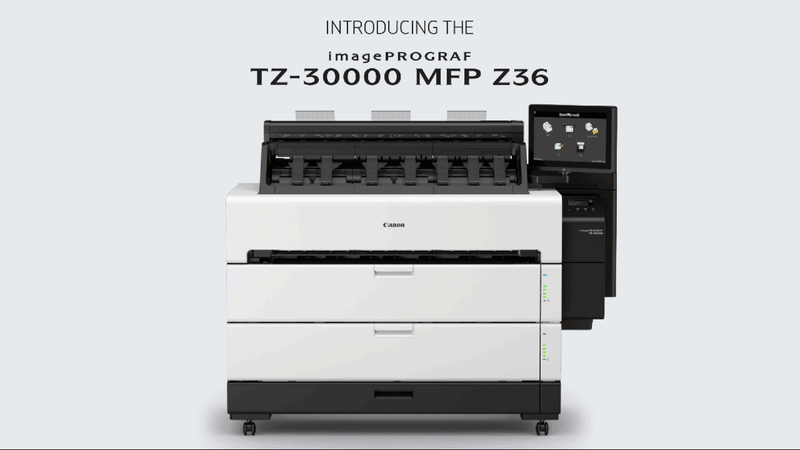 First, the TZ unit comes with 2 media rolls. It is possible to load 500' rolls of paper in each drawer. Likewise, you can use either 2" or 3" core size rolls. Since the TZ is an inkjet technology, there is an incredible range of media options.
The printer works great with bond paper, photopaper, inkjet film, vinyl banner, and much more.
Loading paper is a breeze.
You simply load the roll on the spindle, place it inside the drawer, and close the door – that's it! The Canon TZ will automatically spin and load the paper. From there, the imagePROGRAF TZ will automatically sense the media length, and width. You only need to select the paper type from the printer's touchscreen display.


Plus, the TZ is smart. It learns to recognize the media type and size that you typically use and can identify it automatically when you load it again.

The printer will auto switch the media as needed between the two rolls. This happens automatically so you don't need to worry about manually switching from one roll to the other.
Always know how much paper you have available
Another groundbreaking feature of the built-in Auto Media Detection are LED light indicators on the front of the rolls that instantly show you how much paper is remaining on the roll. It does this by displaying four different levels, giving you insight when the paper is running low.
This is an industry-first and pure genius!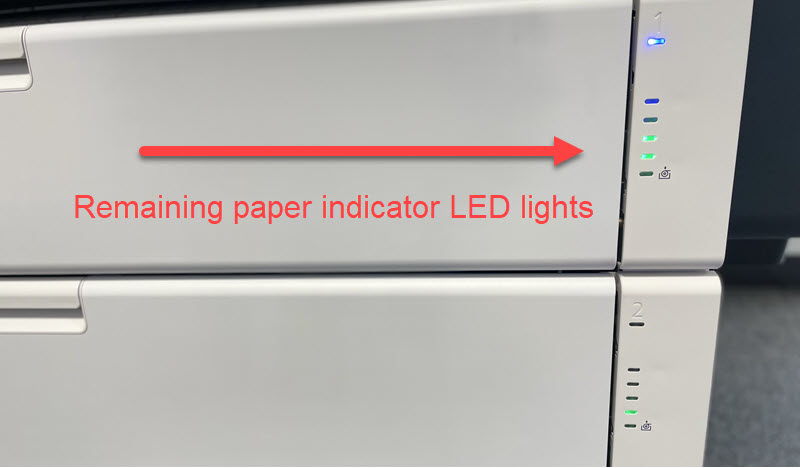 New Generation Smartworks PC Controller
The brains of the MFP (plotter with scanner) version is the new All-in-One Windows 10 PC mounted on the system. This large touch screen computer comes loaded with the latest version SmartWorks MFP v6 software.
This latest version of SmartWorks is powerful and incredibly easy to use. The large icons provide an intuitive path for anyone to walk up and start using the system right way.
Directly from the interface, you can print from a USB drive, copy drawings, or scan to PDF, TIFF and JPEG file formats.

Cutting edge ink technology
Ink has come a long way over the years. Today, all the Canon imagePROGRAF printers use 100% pigments inks. Why does this matter? Unlike dyes, which are essentially watercolors, pigments are aqueous emulsions of pigment particles. Once the pigments are jetted on the print media, they become permanently bonded to the material.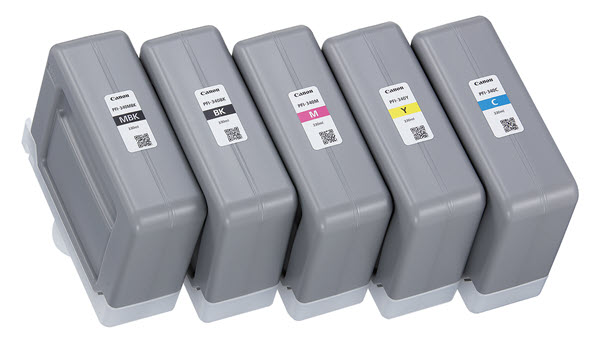 Since the TZ-30000 uses this type of ink, you can always count on your drawings, renderings, and photos to look great. Plus, pigments are fade resistant and water resistant. You notice much more durability from these prints than from other legacy inkjet plotters.
The Canon TZ 30000 is capable of uses two different size ink tanks – 330ml and 700ml. The best part is that you can mix and match these as you like.
ProTip: Using the larger ink tanks drops your per milliliter cost by almost 40%!
[ Shop now for Canon TZ Ink Tanks ]
Loading new ink is super easy. Simply lift the old tank out and drop a new one in the bin. You can even hot swap the ink tanks while the TZ is printing for a totally uninterrupted workflow.
Conclusion
The Canon TZ 30000 plotter and MFP system bring many industry-first features to market. Print fast with less human interaction than ever before. Media handling and ink changes are effortless and even allow you to change them "on the fly" without having to stop and interrupt your print job.
All of this is bundled into a very compact form factor that will be a good fit for any post-COVID office looking to upgrade their technology with one of the best CAD plotters available.
See the full line of Canon imagePROGRAF plotter and MFP systems