[ Free Consultation ] Are you interested in getting a new wide-format poster printer but have no idea where to start? Get help from our top tech experts in a free consultation call.
Click Here to Schedule Your Free Consultation Call
Many of our clients are asking us about printing posters and other signage. Poster printing used to be a privilege reserved exclusively for high-end commercial print shops due to the cost of the equipment.

However, poster creation and printing are much more accessible and cost-effective for everyone today. The equipment has become more powerful, easier to use, and affordable. If you are considering exploring a new printer for poster printing, here are some things to consider:
Types of Wide Format Printers for Poster Printing
People commonly use wide-format printers like the Canon S-Series and HP DesignJet Z-Series to print posters. These printers boast a high resolution and can print a wide range of colors, making them perfect for producing high-quality posters.
Canon PRO S Series
Canon PRO S-Series Plotter Printer models, including the PRO-4100S (44-inch) and PRO-6100S (60-inch), are specially designed for high-volume graphic arts print service providers that need to maximize productivity and manage color across a fleet of large printers.
HP DesignJet Z Series
The HP DesignJet Z-Series, including the Z6 (24-inch and 44-inch) and Z9+ (24-inch and 44-inch) printers, are designed for professional photographers, graphic designers, and print service providers who want to create high-impact indoor prints consistently and accurately.
Printing Posters at a Print Shop
If you work from home and need to produce some large signs or posters, you can take your poster design to a local print shop that offers poster printing services. You can upload your creation to their website, bring it in on a USB drive, and print it at the store.
This method is acceptable for occasional printing or low-volume work. However, it can be expensive. If you have an ongoing need for printing posters, having your printer can be a better solution as it significantly reduces the cost per print by tens of dollars per page. The final prices depend on the variable input costs of ink and print media.
Printing Posters at Home
While it may seem like a good idea to print a poster on multiple sheets of paper and piece them together, there are better approaches than this, and, likely, you will ultimately not be happy with the results.

Instead, a small 24-inch roll-fed printer in your home office or home studio is a much better option for printing posters. These smaller models take up a small amount of floor space but still pack the power of the larger models. Plus, Canon and HP poster printers can print on various media options, including photo paper, vinyl, and even canvas.
Printing Posters for Business
When printing posters for business, it is crucial to have access to high-quality printing equipment. While printing posters at a print shop is a viable option for occasional or low-volume work, businesses that require frequent poster printing should consider investing in a printer for their office or studio.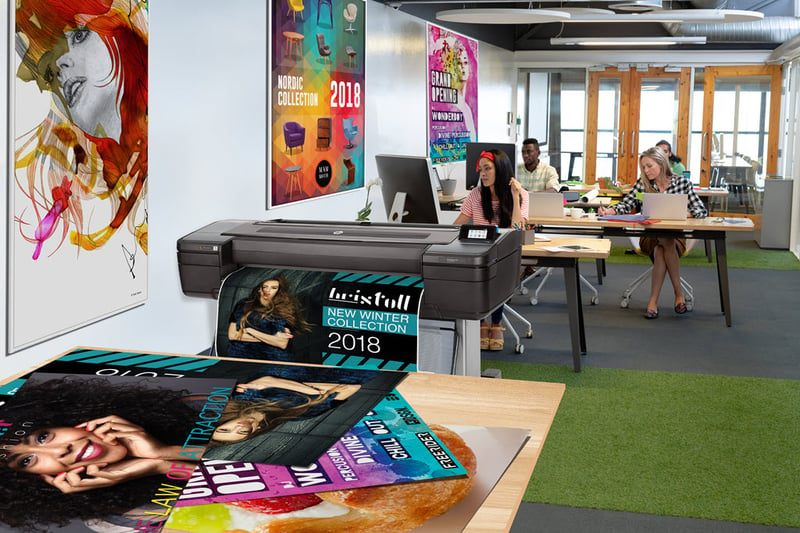 A printer on-site lets you quickly and easily print as many posters as you need without waiting for a print shop to do it. This situation provides more flexibility and control over the printing process, which is essential for businesses that must meet tight deadlines.
Your printer can significantly reduce print costs by tens of dollars per page. The final prices depend on the variable input costs of ink and print media. Investing in a printer for your business can save time and money in the long run while also ensuring that your posters are of the highest quality.
Tips for Making Great Posters
When making great posters, there are a few essential tips to keep in mind. First and foremost, it's crucial to use high-quality images and graphics. This practice means selecting images that are high-resolution and in focus. Likewise, an image must be clear and pixelated to maintain the overall quality of the poster.
To make a great poster, keep the design simple and uncluttered. Achieve this by using a clean layout with ample white space and avoiding overloading the sign with too many images or too much text. If a poster is cluttered, it can be overwhelming and challenging to read, which may discourage viewers from engaging with the message.
In terms of text, it's crucial to ensure that it is easy to read. Use a legible and appropriate font for the poster's content. Use only a few variable fonts; otherwise, the poster may look disorganized and confusing. Similarly, using too many clashing colors can distract from the message you are trying to convey. It's best to stick to just a few colors that complement one another.
Finally, it's important to avoid using low-quality images. These can be pixelated or blurry, making the poster look unprofessional. Instead, ensure that all images, photos, and graphics are high quality. This approach helps yield better results to fit with the overall aesthetic of the poster.
Final Thoughts on Poster Printing
Technology advancements have made creating and printing high-quality posters more accessible and cost-effective. However, whether you are looking to print a few signs for personal use or regularly produce posters for your business, it is essential to consider the correct type of wide-format printer that suits your needs.
To print high-quality posters that effectively convey your message, you must still meet traditional standards, such as using high-quality images and paying close attention to design principles. However, following these guidelines can produce eye-catching, effective, and budget-friendly posters using a new HP or Canon poster printer.
Poster Ideas and Inspiration
Check out these marketing ideas for using a wide format printer for advertising and promotional graphics. I hope they can help stimulate some ideas.
Window displays

Hanging displays

Mounted posters

Ceiling banners

Back-lit signs

Seasonal product announcements

Special offers

Company announcements

OSHA posters and charts

And other posters to print
Get your system for posters to print
Learn more about innovative Canon technology in our Definitive Guide to Canon Plotters
Editor's note: This article was initially published in November 2011 and has been updated for relevance and accuracy.