[ Free Consultation ] Are you interested in getting a new wide-format poster printer, but have no idea where to start? Get help from our top tech experts in a free consultation call.
Click Here to Schedule Your Free Consultation Call
Poster printing used to be a privilege reserved exclusively for high-end commercial print shops. Sure, it's convenient, but it is expensive - especially if you are printing signs, book covers or posters on a regular basis.
But, changes in technology have not only made poster creation and printing posters much easier, it has made it more accessible to everyone.
Today, if you can click a mouse, you can print some amazing posters with Canon wide equipment and software. See how.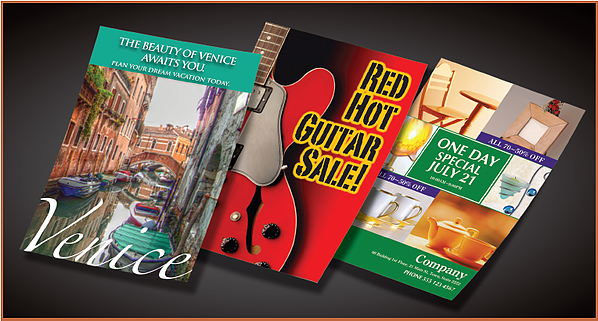 The Need for Poster Printing
Gone are the days of needing a dedicated, in-house, graphics designer. The latest printer technologies make it a snap to create some stunning work, quickly and easily.
Take, for example, the 8-color imagePROGRAF PRO S-Series printers are designed for the poster and signage markets. There are two large poster printer models available - the PRO4100 and PRO6100, 44-inches and 60-inches wide perspectively. Both function as a poster printer.
These large poster printers use of a new 1.28-inch wide 12-channel integrated compact print head, LUCIA PRO ink set , a high-precision mechanical platform and the L-COA PRO high-speed image processing engine achieves a balance between high-speed printing and exceptional print quality.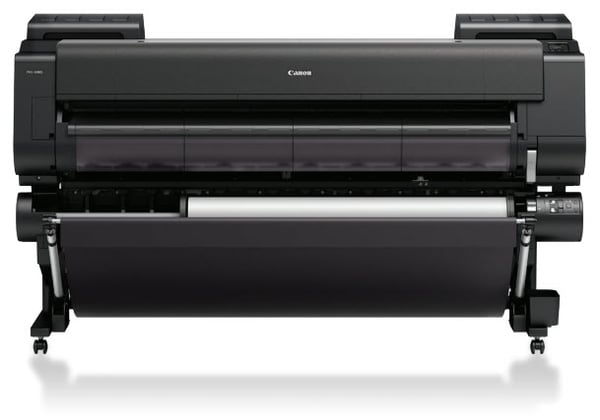 PRO S-Series Plotter Printer Models:
PRO-4100S: 44-inch printer
PRO-6100S: 60-inch printer
The new Canon PRO 4100S/6100S is specially designed for high volume graphic arts print service providers that need to maximize productivity and manage color across a fleet of large printers.
These machines address the unique needs of print service providers and in-plant (CRD) operations competing in the graphic arts production printing market segment
Things To Ponder Regarding a Printer for Poster Size Prints
No matter if you are considering the a new Canon S-Series or something else, there are some functions of the printer that you need to make sure are met. Any printer for poster-size work should be to handle these tasks.
Produce print runs that range from one to 250 copies of large format poster graphics.

Fast throughput in order to meet tight deadlines.

Print on a variety of different media types, including glossy, semi-gloss, coated media, vinyl, canvas, and more.

Printed graphics with bold colors, solid fills, and great looking backgrounds.

Photorealistic imaging of people and products.

A wide color gamut – in other words the printer needs to print a wide range of colors. To get the widest color spectrum, look for a printer for poster size prints with at least 8 ink colors.
As long as all of these are fully met, you should be in great shape.
Poster Ideas and Inspiration
Check out these marketing ideas for using a wide format printer for advertising and promotional graphics. I hope they can help stimulate some ideas.
Window displays

Hanging displays

Mounted posters

Ceiling banners

Back-lit signs

Seasonal product announcements

Special offers

Company announcements

OSHA posters and charts

And other posters to print
Easily Create and Printer with Included Canon Software
PosterArtist Lite
Included as part of the printer driver software bundle is is Canon's PosterArtist Lite poster creation software.
This incredibly powerful and easy-to-use gives users the ability to quickly and easily create professional large format prints and now supports the creation of multilingual posters and tiling!
Users simply follow the program's four (4) easy steps to create posters that can be used in applications such as office Presentations, Trade shows, Retail Signage, and much more.
The PosterArtist QuickCopy* feature provides an easy solution for a Canon desktop scanner to be used as a copier, making letter-size flyers and documents into full-size posters with a touch of a button.
[Read our article about making Custom COVID 19 posters with PosterArtist Lite]
Direct Print & Share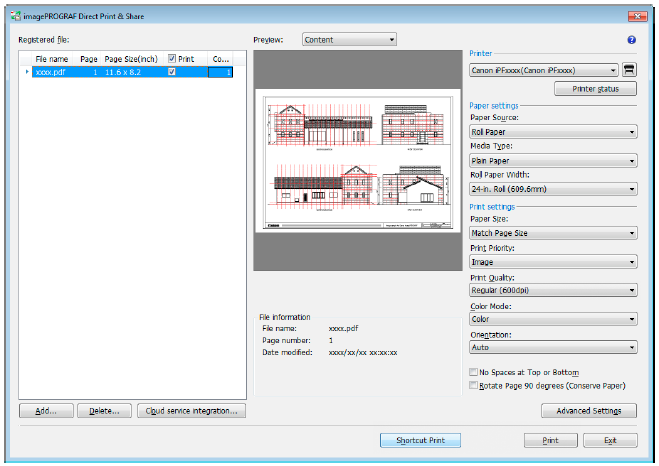 Sharing ideas has never been easier with Canon's Direct Print & Share software. Direct Print and Share is a cloud portal and batch printing solution that helps you to expand your printing workflow.
This software allows you to upload documents to your cloud account using any WebDAV compliant cloud service, and print the uploaded documents from almost anywhere.
Easily share and/or print .cpfx PosterArtist, PDF, TIFF, JPEG, and HP-GL/2 files, through the user-friendly interface. In addition, you can set-up hot folders on your desktop by clicking the Shortcut Print feature.
Then drag and drop the files you wish to print into these folders and the job will start automatically. You can even set up multiple folders, each with their own customized settings, allowing for multiple jobs to be run with ease.
Thumbnail previews of multi-page images and multi-page printing of PDFs can also be done with this software.
Free Layout Plus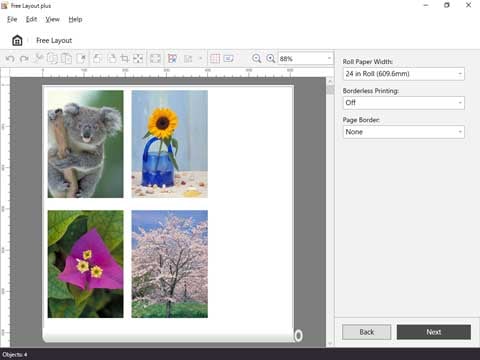 Nest, tile and create custom layouts before printing your files with this print utility. Use the plug-in feature to print directly from Microsoft Office programs.
Canon IPF ImagePROGRAF Free Layout PLUS software lets you effectively lay out (nest) and print multiple different images on one print.
You can use the Free Layout function to group and print files from different applications as a single job. Plus, besides nesting, Print Layout PLUS
In addition to normal nesting functions, the Canon IPF imagePROGRAF Free Layout PLUS software has the following features:
Arrange images and output from different applications into a single file and print them.

Change the layout and size of specified pages only

Manually move of objects on the page

Manually align of objects as you wish

Enlarge/reduce of objects on the page

Rotate objects to fit as desired

And much more
Get your own system for posters to print
Learn more about innovative Canon technology in our Definitive Guide to Canon Plotters
Editor's note: This article was originally published in November 2011 and has be updated for relevance and accuracy.