Many construction projects related to existing buildings are to be reused or renovated. In this scenario, measurements are crucial for estimating and communicating with other project stakeholders. For decades, manual tape and clipboard were the standard methods. However, this type of collection can require hours on-site and possibly more at the office.
Fortunately, today's technology allows companies to capture an entire space at a minimal cost quickly. 3D scanners like the Matterport Pro3 let users get all the as-built data through a digital twin. However, there are still plenty of situations where traditional floor plans are needed or wanted. This article explains how to produce conventional floor plans quickly through the Matterport platform. But first, let's go over precisely what is a digital twin.
TL; DR
Slash your time on site and capture project spaces quickly as digital twins

Quickly get the schematic floorplans, construction documents, and even e57 files from Matterport Add-ons.
What is a digital twin?
A digital twin is a complete digital representation of physical space. This image encapsulates the entire property in a 3D image that includes high-quality 3D imagery and all the spatial data. These 3D depictions can be instrumental in the construction planning process.

How are Digital Twins Beneficial?
3D images and walkthroughs allow all project partners and stakeholders to see the same information. This clarity eliminates any issues with sharing critical information. In addition, all visual data is easy to understand.
An example would be to document the ingress and egress of large mechanical equipment, ensuring that everything advances and fits properly before construction begins. Using this to get all project partners on the same schedule can make the entire project timeline happen like clockwork. This coordination also helps reduce or eliminate the need for RFIs and change orders.
How to get a Digital Twin using Matterport
Connect the 3D scanner, via Wi-Fi, to a mobile device running the Matterport App. Each scan automatically stitches together to build the entire digital space – scan by scan. Once all the scanning setups are captured, the user uploads the file to the Matterport SaaS platform for processing.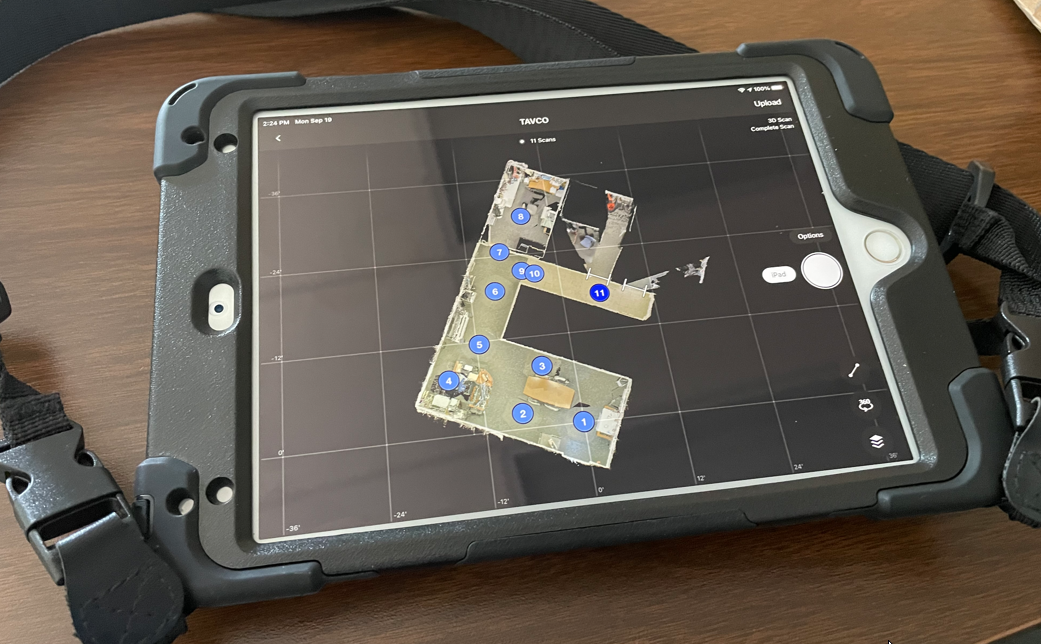 Get a Price Quote on a Matterport Bundle
A fantastic thing about the Matterport system is that AI drives it. Matterport calls this Cortex AI, which converts your scan into an immersive and interactive 3D model.
Once the 3D image file is uploaded to the Matterport platform and processed, optional Add-ons are available from the Project Menu. These include Schematic Floor Plans, Matterpaks, e57 files, BIM models, and other formats.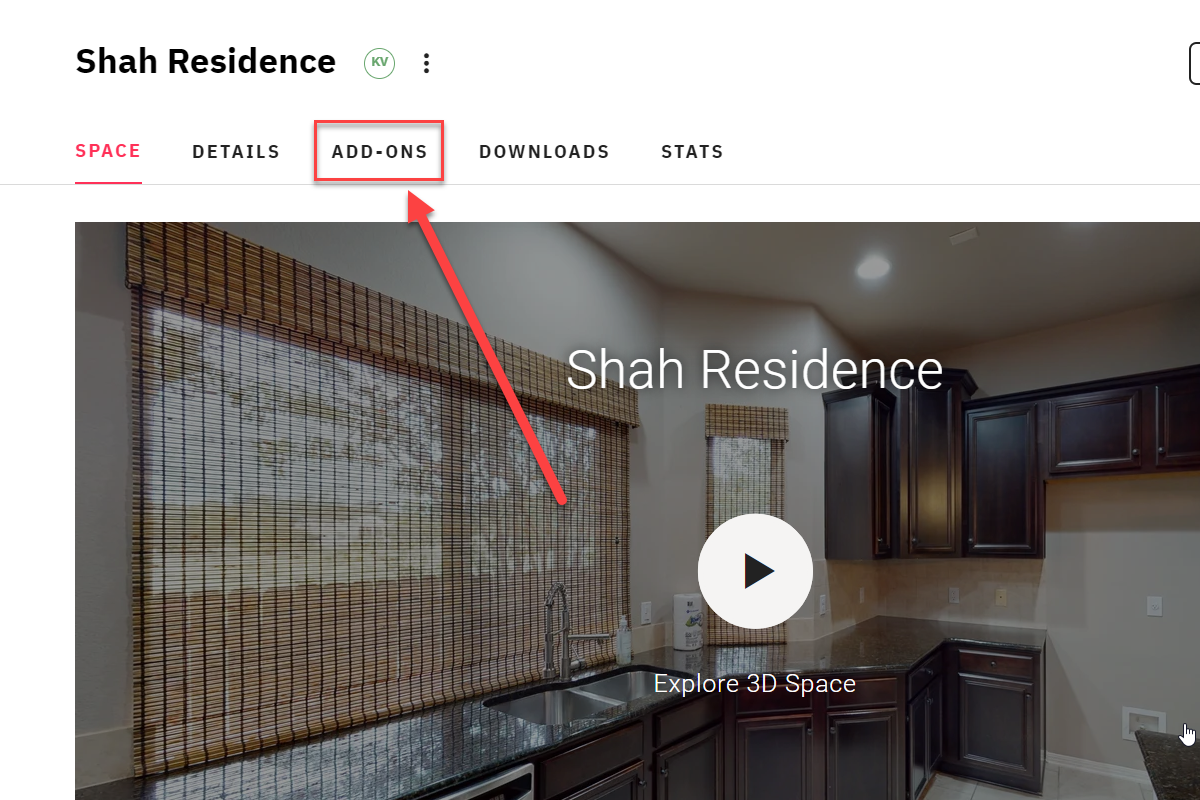 Typically, Real Estate professionals, investors, and other professionals want a traditional 2D blackline floor plan to understand the layout of the entire space. However, depending on your Matterport plan level, you can request a 2D project from the Add-on menu and receive it in a day or two.
Basic Schematic Floor Plans
Schematic Floor Plans are marketing-ready, and the space's black & white floor plans are shown in a traditional top-down 2D drawing.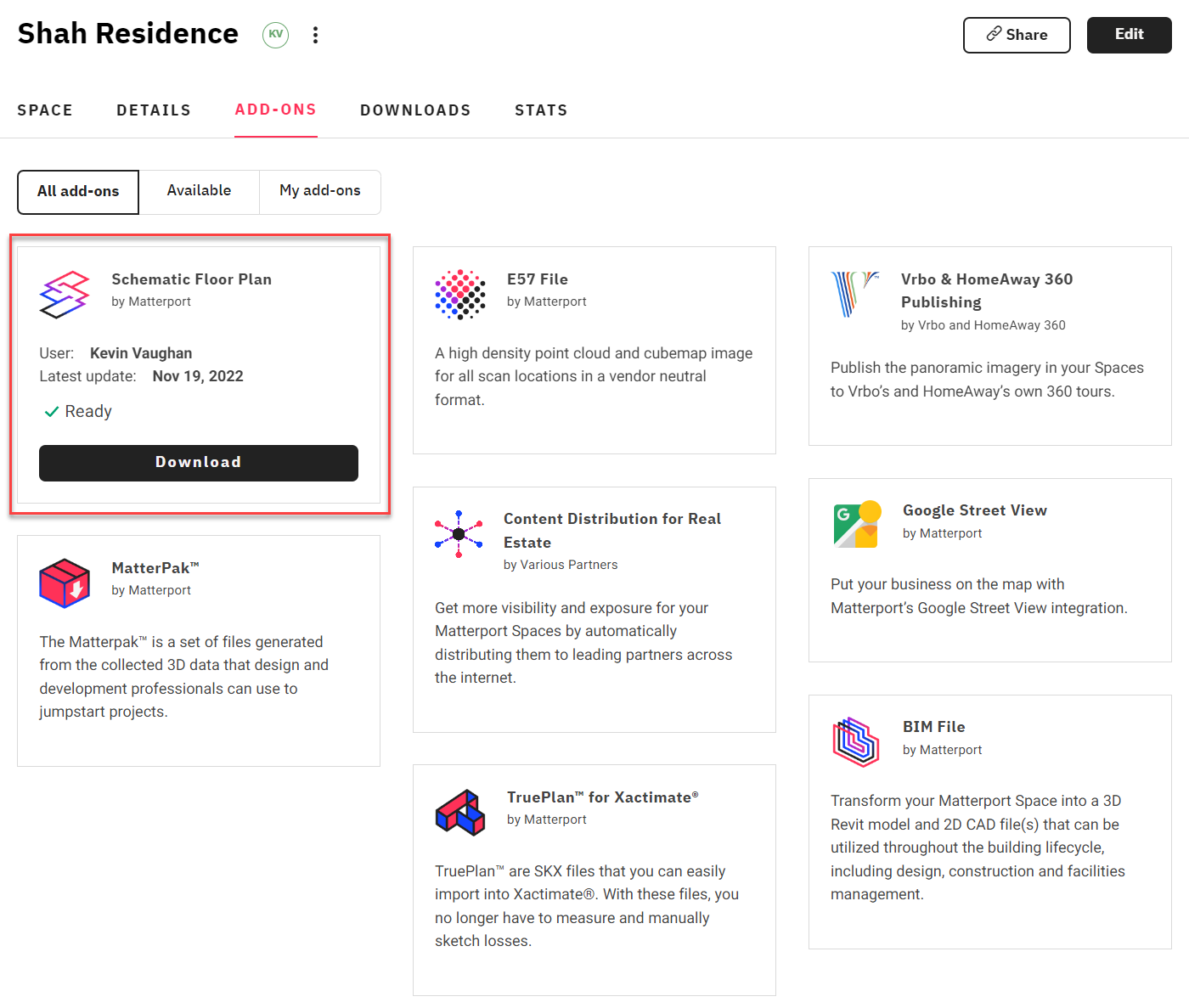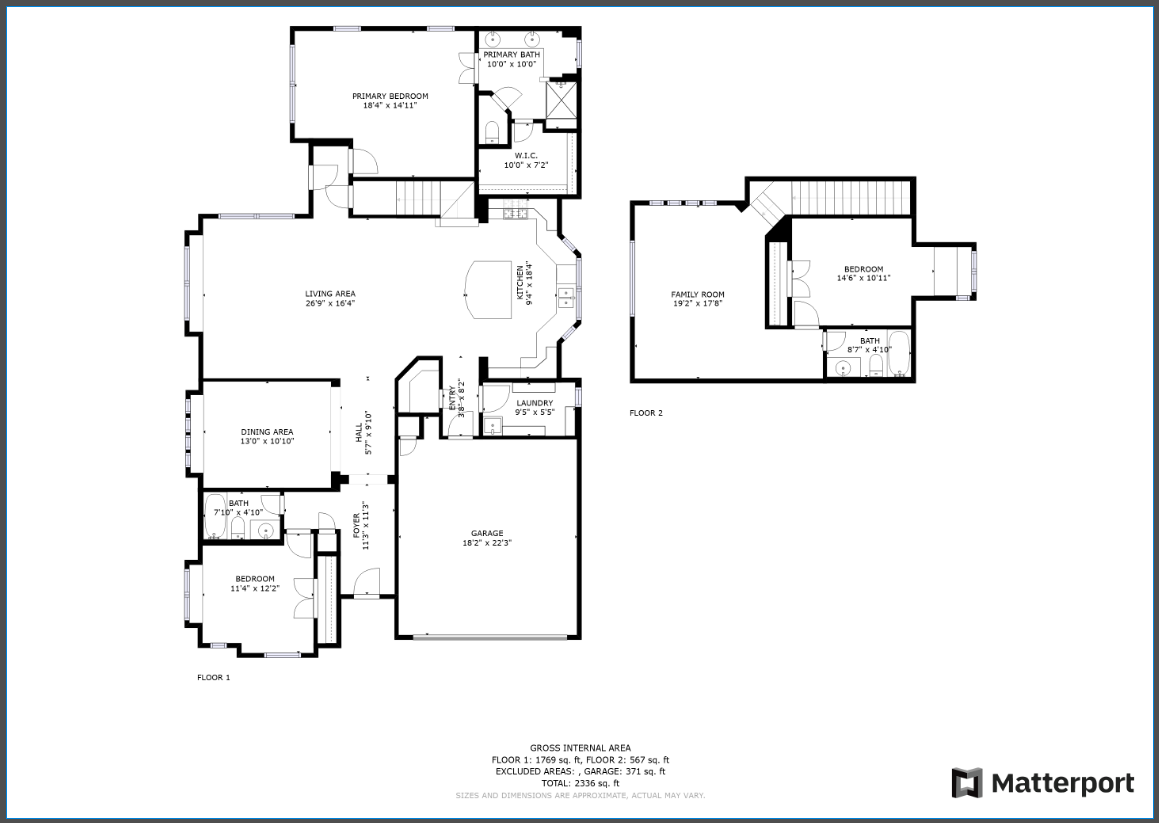 Added Benefits of Digital Twins Besides Floor Plans
Besides creating 2D floorplans, 3D models can be instrumental in planning. Since all project partners and stakeholders can see the same information, this eliminates issues by sharing critical information. And all visual data is easy to understand, even for people who need the training to read technical data or architectural drawings.
Get More Advanced Options with a Matterpak
While the basic schematic floor plan is excellent for general understanding, design and construction professionals often need more detailed data. In that case, a Matterport Matterpak might be a better option.
A Matterpak is a bundled set of downloadable files that are importable into third-party design programs, including CAD applications like AutoCAD or BricsCAD.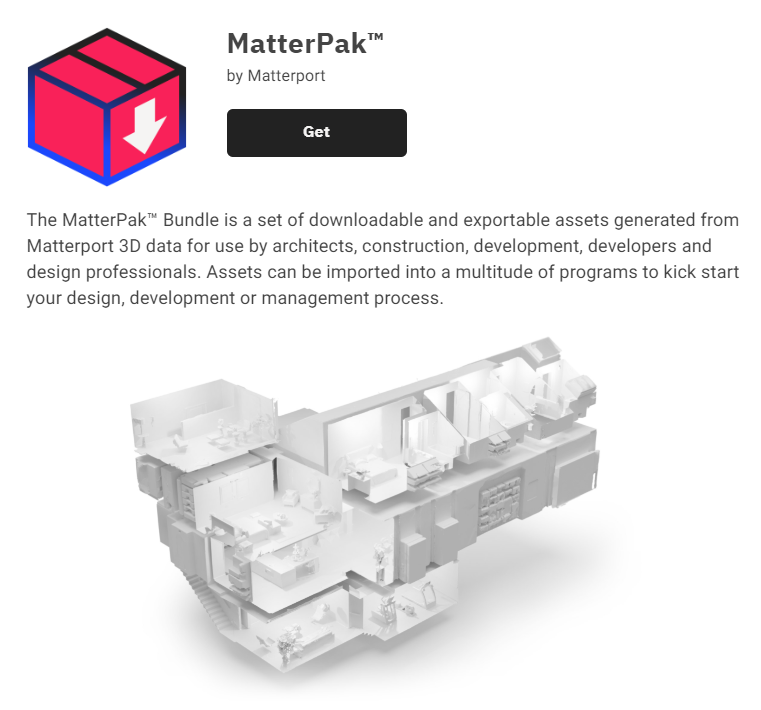 Matterpaks include:
Colorized point cloud (.XYZ)

Reflected ceiling plan image
(.JPG) Multiple files if multiple floors
(.PDF) All floors in one file
High-resolution floor plan image (This is NOT the Schematic Floor Plan.) This image is similar to the ceiling plan image but of the floor.
(.JPG) Multiple files if multiple floors
(.PDF) All floors in one file
3D mesh file (.OBJ), including the necessary texture map image files (.JPG)
E57 File for Detailed Point Clouds
When accuracy is paramount, you can level up to an e57 file. This file is the RAW point cloud image file from the 3D scanner. It is a vendor-neutral universal format to import into most 3D software packages. They are exact, but the file size can be massive.
In comparison, the XYZ point cloud offered in the Matterpak is a simplified and smaller version of the point cloud. If you think about this in digital photography terms, the XYZ is like shooting JPG files, and an e57 is like shooting RAW. You can do a lot with the e57, but you should be mindful of the file size and the processing power needed to work with it.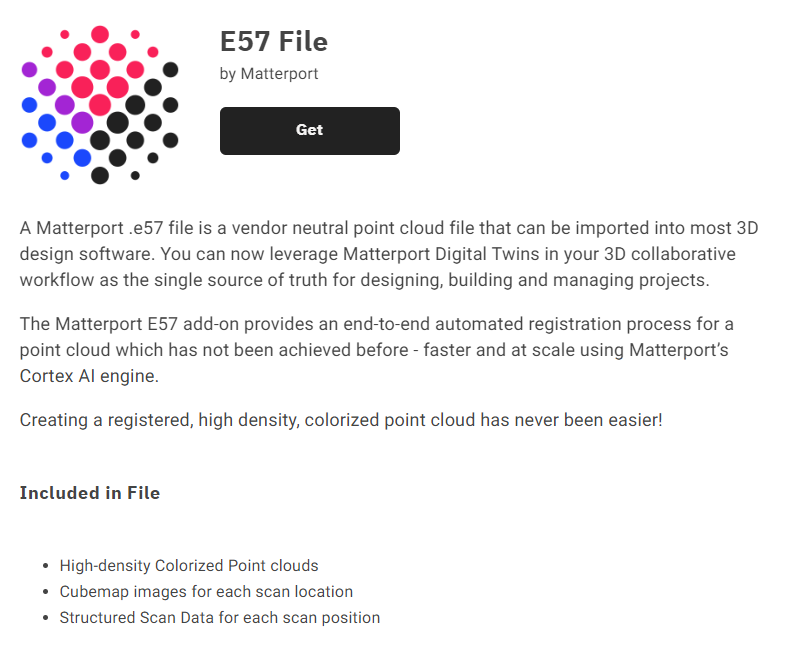 Summary
The Matterport online platform makes capturing and processing 3D models a breeze. For example, if the image was scanned with a Pro2, Pro3, or Leica BLK360 G1 and uploaded to Matterport, the floorplans can easily be created using the Matterport Cortex AI software.
Besides standard 2d plans, other advanced options are available, such as a Matterpak that includes multiple assets or a highly detailed e57 file. Regardless of your choice, the result is that you will spend less time on site, make fewer trips, communicate better with your team, and get jobs completed faster.
How could you improve your workflow with a floor plan from a digital twin? (Leave a comment below)
Content source:
https://matterport.com/how-it-works/schematic-floor-plans
Related products:
Leica BLK3D Photogrammetry Camera