Canon recently announced the release of their updated entry-level "Le-Series" plotter/scanner systems. Built on the same technology and success of the preceding L24 and L36 models, the new L24e and L36e offer a variety of significant upgrades, of which you should take note.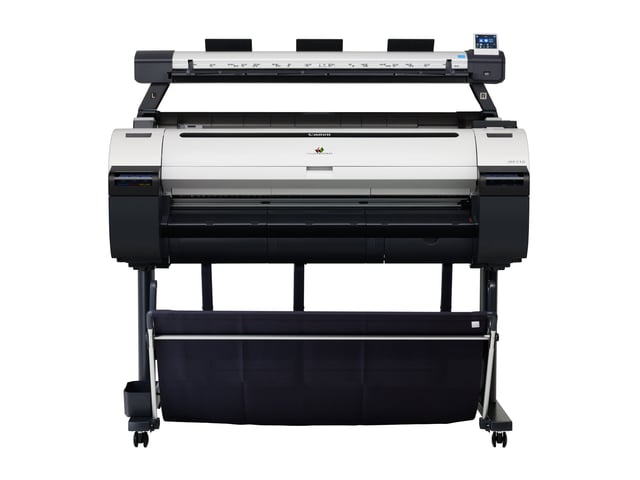 The two new models are the
36-inch iPF770 MFP L36e and the 24-inch iPF670 MFP L24e
. Both include a Canon wide-format printer and an attached color scanner. Designed by Colortrac, the scanner is incredibly easy-to-use and provides great image quality. Traditionally, scanners have been a significant additional investment to add-on to an existing plotter. But, in the case of the Le-Series, scanning is surprisingly affordable.
imagePROGRAF iPF770 MFP L36e MSRP: $5,995
imagePROGRAF iPF670 MFP L24e MSRP: $4,095
One caveat though, the Le scanner is not designed to be a high-capacity scanning system. Instead, it is a great convenience tool for an entry-level or low-volume user who simply needs to occasionally copy or scan a wide-format document. Essentially, this adds significant functionality and productivity for the user.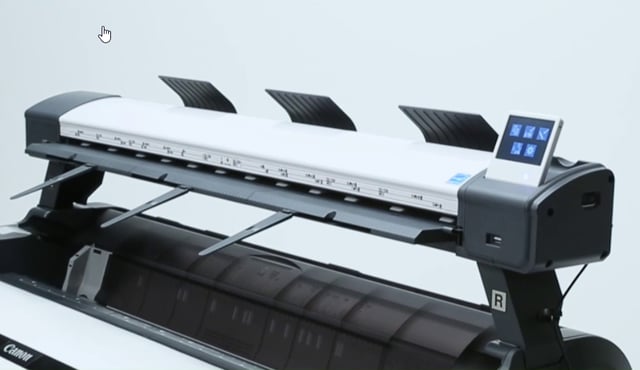 The Le series hits the mark for those users that may not have the expertise to use, or need, the sophisticated functions of the top end MFP M40 scanners. Many architects, subcontractors, K-12 schools and colleges, whose scanning volume might not justify the cost of current MFP systems, can take advantage of the convenience of having an in-office device, available at any time, that is more economical than outsourcing the scanning and plotting.
Outstanding New Features
The Canon iPF MFP L24e and L36e include some awesome new features, all of which come standard, including:
Multiple documents scanned into a single PDF file
Has a Touch Screen user interface with user friendly menus
Simultaneous Scan to File and Copy mode
Scan to a selected PC with the ScanApp Le application
Table top legs are included so you can use it on a desktop.
Details
Among the enhancements of the imagePROGRAF iPF770 MFP L36e and imagePROGRAF iPF670 MFP L24e models is the ability to scan multiple documents into one PDF file. This is HUGE, because historically, this feature alone has been a $595 upgrade on the M40 systems. Scanning multi-page PDFs will save you the time compiling all the scanned documents into one PDF with another application. The scanners also offer a quicker release of documents from the scanner to help expedite workflows.
The new touch screen user-interface provides you with improved, intuitive menus and easy to read on-screen text for managing the scan jobs. Through the new touch panel, you can print to multiple printers on a network or scan to multiple computers for improved productivity.
A new Copy & Archive Mode gives you the ability to scan to copy while simultaneously scanning to file.
New copy scaling options are easily found in the interface to help you complete your scanning task with minimal effort. With scan modes ranging from Draft to Best, the scanners allow users to easily regulate image quality.
Also enhanced is the file support for scanning to a USB thumb drive via the ScanApp Le on a PC. You can save TIFF, PDF, multi-page-PDF and JPEG to a USB thumb drive, just as easily as you can to a PC. If you have the scanner connected to a network you can share you scans to the Cloud, any connected PC or a Thumbdrive.
Since the Le-Series scanner is attached atop the printer, the whole unit is a single footprint device. This saves floor space and frees up value office real estate. Table top legs are also included in the case that a company wants to use the system on a counter or tabletop.
What's Inside
The Le Series scanners utilize the same advanced SingleSensor Technology used in the current iPF MFP M40 systems, which provides consistent color accuracy. With scan modes ranging from Draft to Best, the scanners allow users to easily regulate image quality.
The printers included in this series are the 36-inch imagePROGRAF iPF770 and 24-inch iPF670 printers. Both feature a 5-Color ink set, which is ideal for technical applications, posters, and office signage. The printer's Sub-Ink Tank System allows for all of the available ink in a tank to be used before needing to replace it, helping eliminate any wasted ink.
Visit TAVCO.Net for all the details on these new scanners and all of the plotters in the Canon iPF and PRO Graphics line of inkjet plotters.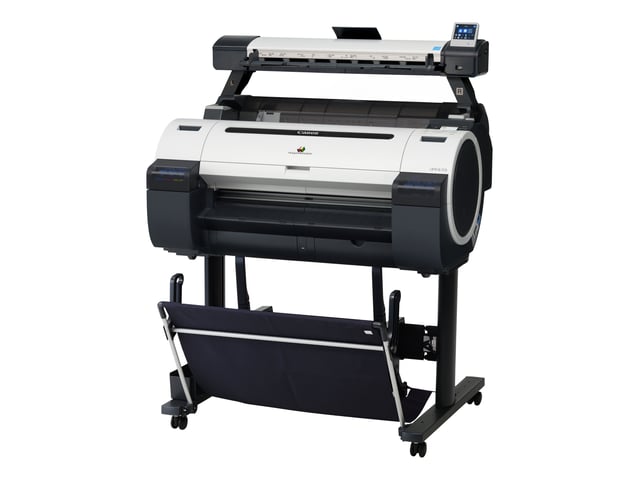 Learn more about the Canon iPF770 L36e and Canon iPF670 L24e MFP Systems