Over the past several years, the insurance industry has collectively suffered financial loss. Premiums paid by the insured have not been substantial enough to drive profitability. The insurance industry refers to this as a 'hard market.'
Unfortunately, when insurers experience losses, the policy holders are the ones who ultimately pay the price in the form of higher premiums. While all consumers and business ventures are subject to increases, the construction industry has certainly seen a huge increase in insurance costs.

The fact is that you now pay more and get less coverage to insure your construction operations. This impacts overall project cost and cuts into profits. Luckily, new emerging technologies, like Smartvid.io are helping AEC companies build a defense against rising construction insurance rates.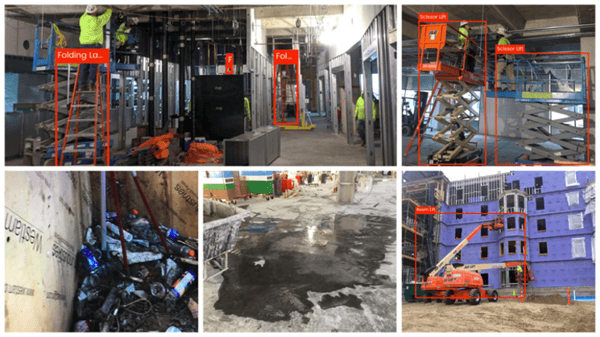 [ Talk with us about Smartvid.io ]
Mitigating risk

Besides regulatory compliance, the sole reason companies carry insurance is to financially protect against risk. So, if you can reduce your risk potential, and prove it, you are in a great position to negotiate lower rates.

What would be the impact to your bottom line if you could lower your construction insurance policy, worker compensation policy, and other insurance coverages that are used to mitigate your company's liabilities?

Elevating safety through AI

Jobsite safety is the responsibility of the Safety Manager. They actively monitor the work site for potential safety issues and hazards, so they can intervene if needed. Safety Managers already rely on a ton of technology in their daily workflow such as CCTV, drones, and other imaging devices. But it is a lot to keep track of and very difficult to compile the data.

Fortunately, technology has advanced to the point that artificial intelligence (AI) can automate many of these oversight tasks and compile the data into powerful analytics reports.
The leading provider of AI for construction safety is a company called Smartvid.io.
Smartvid.io is a subscription-based (SaaS) software solution that brings together the best of human and artificial intelligence into a single platform through separate modules for observations, monitoring, and predictive analytics. The platform reduces incident rates across all your projects by enabling a Predictive-Based Safety approach.

The power of the Smatvid.io Safety Suite lies in the AI Engine, called Vinnie, that is trained to find indications of risk in all areas of safety, productivity, and quality.

The three, primary, Vinnie-powered modules in the Smartvid.io Safety Suite are:
Safety Observations – allows any user with a mobile device on a job site to make safety observations and start conversations with craft workers about safety.

Safety Monitoring - identifies safety hazards in images taken on the jobsite, which are then analyzed for any signals of safety risk to score projects on safety performance. These stats can be compared against industry benchmarks.

Predictive Analytics - provides weekly rankings of each of the firm's projects according to the level of risk and likelihood of a recordable incident taking place soon. As a result, construction management can take measures to prevent accidents before they occur.

Reducing Insurances Costs with Smartvid.io

Insurance companies make risk evaluations by comparing many different factors. They evaluate your company credit report to determine your risk factor. The insurance company will also compare your company's workplace injuries against those of other construction firms in the industry.

You may have to also show its incurred losses due to safety infractions. If your percentage of workplace injuries exceed the industry rate you will pay a higher rate. But if your percentage of workplace injuries are less the industry rate you will pay a lesser rate.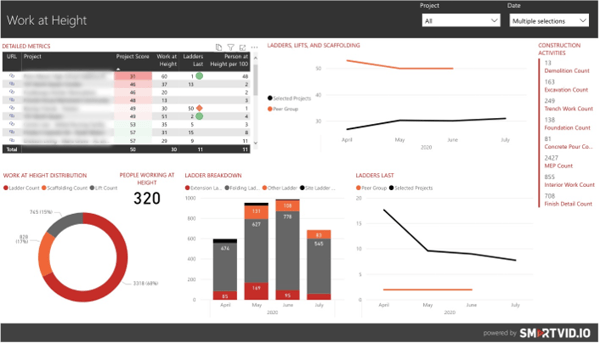 You can use Smartvid.io to score your safety company's rate score creating a benchmark comparing your score against other construction companies. Once the findings are compiled, they can be used a leverage to negotiate your insurance rate.

Serval leading AEC companies such as Shanska, Clayco, and Clark Construction have tested Smartvid.io with half dozen insurance carriers. The results of these test have been amazing improving safety records of the companies and lowering construction insurance cost.

Per Aon Risk Solutions,

"Smartvid.io can also help mitigate risks impacting insurance policies, including wrap-up liability, workers compensation, employer's liability, builder's risk, and subcontractor default insurance. Smartvid.io improves PPE compliance and reduces the number of injuries by automatically detecting workers missing safety equipment.


It also improves site risks by detecting and enabling review of practices related to site conditions, such as scaffolding, ladders, uncapped rebar, etc. Smartvid.io is constantly adding AI support for new categories of quality management, with planned improvements including crack detection, water intrusion, fall protection, and MEPI risks."

So how does Smartvid.io do all this to protect your company's bottom line? The Vinnie AI reviews construction site photos, inspection reports, creating comprehensive reports for the end user. In turn this data is used to create better safety programs.

The analysis allows your company to create a comprehensive safety program. Therefore, giving your company the data, it needs to defend your company's risk evaluation from an insurance carrier prospective.

You can use this data to convince your insurance carrier that your company is a good risk for construction insurance. This puts you in a much better position to negotiate a discounted rate.

Conclusion

Smartvid.io should be another tool in company's toolbox for your safety engineers. It gives them tools to create a more robust safety program. The manual recording of hours and hours of behavioral observation can now be done through Vinnie (A.I.).

This empowers your safety engineers focus on what they do best and that is review plans and specifications of constructions sights. Smartvid.io provides peace of mind regarding safety compliance and can be a powerful tool to help you reduce insurance costs. It does this by tracking your safety performance and cataloging the data into powerful analytics that you can compare against industry benchmarks.

But, most importantly, Smartvid.io help you protect your most valuable assets, your employees so they can return home safely to their families. Mitigating the inherent risk, they accept everyday building America!
How do you see Smarvid.io benefiting your insurance coverage?
Read the case studies about Smartvid.io

Content sources:
how-smartvid-io-uses-ai-and-machine-learning-to-reduce-risk-on-construction
duties-safety-manager-construction-company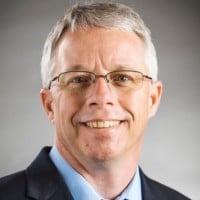 Brian is a big fan of anything business and technology related. He descends from a long line of legitimate cowboys and Texas Rangers. In his spare time, Brian enjoys visiting historical sites where his family helped tame the Texas frontier.